Amazon.com – The word that's creating a revolution in the world.
Lead by Jeff Bezos, the CEO, and Founder, Amazon works on making the world better.
Started as an e-commerce website, now Amazon has grown to compete NASA, SpaceX, to build infrastructure for humans in the space with Blue Origin.
Well, that's enough to wonder how big is Amazon. It's not time to find an opportunity to become part of Amazon.
Working for Amazon is a prestigious opportunity. But, not everyone gets the opportunity to work with Amazon.
Amazon online jobs are an alternative solution if you want to work with Amazon.
Unlike full-time jobs at Amazon, the part-time Amazon jobs may not treat you as Amazon employees. It's just an opportunity to earn money with Amazon programs.
In the case of Amazon virtual positions, you will be the direct Amazon employee whether it's full time or part-time.
Amazon Online Jobs:
Amazon Work from Home Jobs:
These are the Amazon online jobs to work from home for beginners and advanced users.
What it means to a beginner is, these jobs suit people without technical skills like students, housewives, and work from home moms.
At the same time, Amazon has advanced virtual job positions for people with skills.
Amazon Mechanical Turk:
Amazon mTurk is a crowdsourcing website that connects businesses with thousands of remote crowd workers.
The businesses posts tasks on mTurk that can't be fully or partially processed by the computer.
The workers/Turkers complete the tasks that are posted by the clients to earn money.
You can get ideas with an in-depth analysis of the mTurk tasks otherwise called micro jobs posted on mTurk.
A brief note on Human Intelligence Tasks:
The jobs posted on the Amazon are necessarily called the Human Intelligence Tasks or HITs for a reason.
As said before the tasks that are posted on mTurk are the ones that cannot be fully or partially processed by the computers i.e. AI(Artificial Intelligence).
But, the tasks posted on mTurk are easily solved by humans i.e. with HI(Human Intelligence).
This is the reason why jobs posted on Amazon mTurk are called Human Intelligence tasks, in short HITs.
Though it looks impossible for computers to solve simple processes, we humans can do it very easily.
Amazon mTurk HIT Jobs:
This section gives you an overview of Amazon jobs posted on mTurk.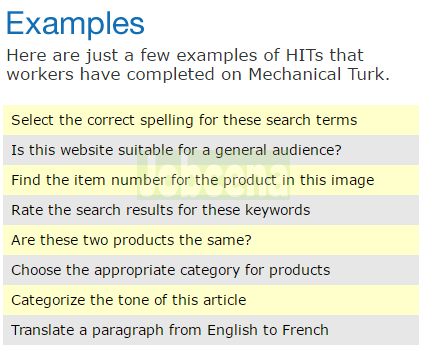 The HITs are simple usually related to data entry, data processing, data analysis, image processing, data verification, copy-pasting, translation jobs, transcription jobs, data cleaning, information collection, testing tasks, and hundreds to add in the list.
With a real-time example, let me tell you what's mTurk task be like,
The worker will be given with the image and asked to convert it into text format. While computers can't read images without the help of 'alt text', we humans can do it very easily.
Data analysis HIT is verifying the data given in the source to analyze the content based on the guidelines.
Find a lot of "type the text tasks" on mTurk that pay up to few cents upon completion.
Comparing two or more products based on the given rules.
Translating tasks that involve translating documents from one language to another language.
Simple tasks like taking surveys and recording voice with the mobile phone to earn.
Working on Amazon mTurk:
Workers are given full freedom to choose the HITs they wish to do based on their interests.
But, initially, the workers will have to go 30 days of surveillance period where they will be tested for reliability, accuracy, and trust.
Taskers can fully unlock the HITs on Amazon mTurk after this period.
Here how it goes,
Browse HITs > Choose HIT > Read Instructions > Complete HIT > Get Paid
mTurk is the best Amazon Job for Part Timers:
Join Amazon mTurk for free, there are no special hiring process or no interviews.
Also, Amazon mTurk has no time restrictions or no employee rule.
Turkers can work from home or remote places at their convenient timing.
But, once a HIT has been activated, there is no going back. The HIT has to be completed within the grace time. Frequent skipping might create a negative impact on the account.
Accuracy matters a lot. Only workers who can work with high accuracy can continue their part-time career on mTurk. Maintaining accuracy is not that hard if done with full concentration.
Is Amazon mTurk worth it?
Better than some of the crowdsourcing platforms like Figure-Eight & Appen, Amazon mTurk has got better for the workers.
That doesn't mean Amazon mTurk is the way to go. The workers will have to continuously work on low paying HITs as per the Atlantic.
Amazon mTurk pays a few cents for most of the tasks while you can expect a few dollars for advanced tasks.
If you're looking for a reliable income for the precious time spent, then Amazon mTurk might not be the platform for you.
The alternative to Amazon freelance jobs, check out the freelance marketplaces that can convert part-time career to 4 figure income.
Should you work on mTurk?
Amazon mTurk works better for the people without skills, students looking for pocket money, and employees who like to earn some extra money doing simple tasks.
Amazon mTurk will not create a career for you. It's the platform for instant money.
Since it's open to thousands of workers in 49 countries, you cannot expect to get paid more.
But thanks to Amazon mTurk, since it helps thousands of users falling into unethical captcha typing work.
Amazon mTurk Workers train Artificial Intelligence:
If you choose to work for crowdsourcing companies like Amazon mTurk, remember that you're training AI.
The AI industry depends on the people who collect and label the data. They help make machine learning-empowered solutions possible and we are formalizing our commitment to their well-being. We believe that our customers should know that their partners stand for the ethical treatment of contractors.
Mark Brayan CEO, Appen
That's all about Mechanical Turk in this Amazon online job section.
Jobs for Amazon Web Services Expert:
AWS is Amazon's cloud services similar to Microsoft Azure, Google Cloud, the platform to launch the business in the cloud.
If you're an AWS expert, you can apply for remote jobs to become AWS cloud engineer, instructor, Security management, cyber analysis, or to manage other applications.
If you're are a beginner to Amazon web services, you can become a freelancer to handle clients on freelance market places like Fiverr, Upwork.
AWS jobs are very potent and have a good scope in the future.
If you're interested in learning AWS, it's time to get started.
Amazon Jobs on Virtual Locations:
Amazon does have virtual positions for qualified professionals who live in some locations.
These jobs are very useful for people who aren't near the physical Amazon location and for job seekers who look for virtual opportunities in nearby locations.
Find virtual online jobs in various IT streams like Software development, customer services, operations management, Alexa machine learning, human resource, support engineering, medical, health & safety, data science, marketing & PR, finance & accounting, systems, editorial & content management, development & training, website & application development.
Get started with Amazon virtual positions, schedule an interview to discuss the process of jobs.
Become an Amazon Kindle Publisher:
While you can sell online courses for money, it's Amazon Kindle the platform for writers, experts, and professionals to publish their eBooks.
With millions of Amazon Kindle readers, eBooks with great content reach people like a storm.
Get Started with Amazon direct publishing to self-publish eBooks and paperback for free. Earn 35% – 70% royalty when eBooks are sold to the readers.
Kindle publishing tools make it easy to create, edit, and publish your eBook.
After completing the eBook, add it to the relevant category on the bookshelf. After review, the book will be live within 48 hours in Kindle.
Amazon Associates:
Amazon Associates is one of the largest affiliate programs in the world that focus on generating customers to their products with the help of content creators.
If you're a webmaster or a blogger with the website(s) that gets decent traffic, you can consider becoming the part of Amazon Associates.
Get access to their suite, use the marketing tools to promote the customized list of products on your site. Earn money from every qualified purchase via the tracking link. Make use of the deep linking tool to customize the URL.
Make use of the auto ads that and Amazon widget to automatically recommend products to the users based on their preferences.
Earn a 10% maximum commission on luxury products, 5% on digital products, and 1% – 4% on electronics, mobile phones, appliances, books, toys, supplies, etc.
Track reports daily, optimize the promotion to make thousands of dollars every month.
If you're a beginner to blogging, remember it may take months to get started since building a website and generating traffic is itself a big process.
Become a Seller on Amazon:
While Amazon serves people in different sectors, it's primarily an e-commerce website that sells products and services.
Amazon e-commerce is powered by millions of sellers across the world.
You could become one of the Amazon sellers to feature your products or third party brands in front of millions of buyers.
Set up your startup business as an Amazon seller, grow with Amazon as a brand.
Amazon Virtual Assistant:
Online virtual assistant jobs are for professionals who can manage and run things from remote locations.
It needs exceptional skills of multi-tasking, well-built communication, management skills.
Amazon virtual assistant performs one of few of the vital tasks such as competitor analysis, market research, customer relation services, order processing, web designing & development, inventory management, product listing & optimization, etc.
Amazon rarely hires the work from home virtual assistants with exceptional skills.
The payslip for the virtual assistant is pretty high.
Log on to Amazon jobs to grab high paying Amazon virtual assistant jobs on demand.
More on Amazon Online Jobs:
Unlike other online jobs, Amazon's work from home jobs is kind of special. You get the opportunity to work with the e-commerce giant.
Amazon has got a wide range of jobs from beginners without any skills to advanced professionals.
Many start their career as a beginner without skills and later they develop their knowledge to snatch a position on the technical side.
Amazon has a lot of resources to help its employees to self develop their skills.
Get started today with Amazon to grow your career!