Paid Survey is an online money-making program that's available for all internet users.
Anyone from this planet Earth can make use of the paid online surveys program to earn money by sharing their opinion.
Unlike Freelance jobs, you do not need to have technical skills to take part in the paid surveys.
If you've got a PC or smartphone connected to the internet, you're all set to go for doing online survey jobs without investing Money.
What's special here? I'm not just listing the Best Survey Sites just like that. I'm an experienced survey taker been part of many online survey sites for years. I know what is paid survey, how to make the most out of the paid survey sites.
So, if you're new to paid online surveys, I'm here to educate you. Learn how to get paid to take surveys.
Also, find the list of the top 10 survey sites and the reason why they deserve to remain in the top spot(s) of the list.
To Earn More Doing Paid Online Survey:
Here are a few things you can follow to earn more doing paid surveys online,
Rule – 1. More Panels, More Surveys:
Paid surveys aren't like micro jobs where you can choose to do tasks right away after sign up.
Surveys will be available only when the panel sends the invitation. And it's not guaranteed that invitations to take surveys will be sent daily.
So, to address this problem, you may try to join multiple survey panels listed below.
This will ensure that you will get at least a few invitations every day to take surveys.
Rule -2. Make an analysis yourself:
It's wise to act independently once you've gained enough knowledge on a blog like this.
Not everything works the same for all. So, I recommend you to analyze the survey sites after sign up to find which one works best for you.
After finding the best survey sites that work for you, just concentrate on taking surveys in those.
Rule -3. Complete the profile questionaries:
Don't forget to complete the profile on the online survey sites.
It will tell who you're and your preferences to the survey panel.
Based on your profile, they will send invitations to take surveys that are relevant to your interest.
Irrelevant surveys will lead to unnecessary screenouts and even if you qualify, you might not make it till the end.
---
List of Best Paid Survey Sites to Earn Money taking Surveys:
Let us directly get into the list of sites that offer paid online surveys. If you wish to learn more about online surveys, you can find a brief article below the list.
Be advised that this list is not a rating that values high to low or any such kind. Every survey panels listed here are awesome and has its pros and cons.
Below each survey panel, you can find the join button. You may choose your location to sign up directly.
Else if you'd like to learn more about the survey site, click the survey review button that's available just below the join button.
1. Pinecone Research:
Pinecone Research is the leader of Online Market research operated by Nielsen. It's the highest paying survey site with a minimum reward of $3 per survey.
While it's easy to join other survey sites, Pinecone Research has strict restrictions when it comes to recruiting members. Their recruiting terms vary each time based on research.
You will have to fit under their demographics requirement to join Pinecone. So, if you get disqualified just go for other options listed below.
But, once you get into Pinecone you will get a lot of interesting surveys to take part in. Mostly, you will not be screened out of the survey due to irrelevance.
Also, get a chance to participate in Pinecone product testing. Receive free products from their clients and earn rewards for giving your opinion about those products.
With the minimum payout threshold of just $3, you can request cash payment via check, Prepaid VISA, and PayPal. Besides, you can redeem points for gift cards from Amazon.com, Walmart, Starbucks, iTunes.
2. Toluna Influencers:
Toluna Influencers is owned by ITWP, Toluna Brand. With millions of members in its community, Toluna stays one of the largest survey panels in the world.
Trusted by major brands like BBC, Fox, Sony, Amazon, CNN, Amazon, they operate to collect insights from users like you.
Toluna Influencers will send at least a few survey invitations every week to the members. Their survey reward rate may raise to $5.
Surveys are conducted in various categories like smartphones, appliances, banking, technology, bikes & cars, health, food, travel, etc.
Apart from taking surveys for cash, you may answer polls, refer users to earn extra points on Toluna surveys.
Toluna Influencers has got a mobile app developed for Android and iPhone to earn money taking surveys using the mobile phone.
They have got a lot of payment options to redeem points that include PayPal, Amazon, iTunes, BestBuy, Walmart, Starbucks, etc.
3. LifePoints:
LifePoints is the brand new survey panel created by Lightspeed LLC merging the two most leading survey panels in history i.e. the Global Test Market and MySurveys.
This survey site is very well known to send a high number of survey invitations to the panelists.
So, if you're looking for the survey panel that sends survey invitation at least once per day, LifePoints should do well for you.
The LifePoints survey rewards will be pretty decent where normal surveys pay $0.45 to $2 on average.
Besides, LifePoints occasionally send the invitation to record the habits and behavior for a certain time frame, say a week. These testing surveys tend to pay higher rewards.
LifePoints is known to conduct surveys in different categories. This makes their surveys interesting to answer.
Get paid for taking LifePoints surveys via PayPal or you can choose gift cards from Amazon.com, Starbucks, iTunes, etc.
Find the location-based rewards available in your country after signing up.
4. YouGov:
YouGov is my favorite online survey site since their surveys are easy, interesting, and high paying.
I've been answering surveys in various survey panels for years. But no survey panel can match YouGov when it comes to the survey quality and ETA.
Most of their surveys will be very short that will take just 5-10 minutes to complete the survey.
Earn an average reward of $2 for taking a survey on YouGov.
Occasionally, the YouGov members get a chance to take part in the discussion boards. The member must participate 30 minutes daily for a few days to get rewarded. YouGov pays up to $200 for participating in the discussion boards.
Survey categories come under lifestyle, politics, internet, product comparison, environment, travel, smartphone, apps, which are considered to be interesting.
Redeem YouGov points for cash via PayPal. International YouGov members can receive cash for taking the survey at the Western Union outlet. YouGov India users can redeem points for Paytm cash.
In the case of gift cards, YouGov Points can be redeemed for Amazon.com, BestBuy, iTunes, Target, and Walmart brand vouchers.
5. Ysense:
Ysense is a Get paid to site with a lot of survey opportunities posted from different market research companies. If you aren't aware of get paid to sites, here's the difference between GPT sites vs Surveys Sites.
Previously called Clixsense, now it is owned by Prodege LLC. This company is a leading one in operating various rewarding and cashback programs.
While on the paid survey sites listed above you can earn money only by taking surveys, on Ysense you can earn money by taking surveys, doing data processing tasks, completing offers, etc.
Anytime when you log into Ysense, you can find at least 30 surveys waiting for you to be completed. So, Ysense can be called the collection of survey platform that never runs out of surveys.
Their survey reward rate starts from $0.30 while most of them pay $1.5 on average. Besides, I've even seen some surveys that pay up to $5.
On reaching the $10 threshold, you may order them to pay via PayPal, Payoneer, Skrill, Tango Card or redeem cash for Amazon, Steam, Walmart, etc.
6. Opinion World:
Opinion World is part of Survey Sampling International, Dyanta LLC. It's one of the leading market research companies in the world.
This survey panel is well known for providing customized service to their community members. Like featuring surveys in native languages other than English. And showcasing country based rewards which make it easy to redeem the points.
Opinion World surveys take 5 – 20 minutes to complete on average. Expect decent pay for taking their surveys based on the time taken to complete.
Apart from being a survey panel itself, their surveys can be found in third-party sites like paid to read programs as OW survey router.
Win badges on Opinion World to unlock various milestones and be treated as a premium member.
Get paid for taking their surveys through PayPal, Amazon, and Airline credits.
7. Ipsos i-Say:
i-Say is one of the world's largest survey sites that conducts over 70 million interviews in a year serving thousands of clients all over the world.
Operated by Ipsos, i-Say is the home to 3 million members who earn cash by answering paid surveys.
Ipsos i-Say surveys are interesting and easier to complete. Their survey engine has a great UI that makes it pleasant while taking the survey.
The survey reward ranges from 10 to 100 points on i-Say.
Though the reward doesn't look impressive, the survey takers would receive 5 points in case if they get disqualified in the middle of the survey.
Every active Ipsos i-Say user will get a chance to win $1000 cash in the lucky grand prize draw.
i-Say users can redeem their points for gift cards from Amazon, iTunes, Starbucks, Target. Cash payment is processed through PayPal.
8. Paid ViewPoint:
Paid ViewPoint is a unique survey panel that accepts user registration in all countries around the world.
"Ask Your Target Market" is the market research company that operates Paid ViewPoint Panel.
Speaking about the uniqueness of Paid ViewPoint, they have two types of surveys – The trait surveys and client surveys.
Trait surveys are small surveys with 5 – 10 questions that are available all the time.
Completing the trait surveys will improve the trait score and also, it pays a few cents to just get going.
Take trait surveys to ensure that the profile stays up to date. Get client survey invitation based on the profile.
Besides, the higher trait score will place you in the top 10% of the community members who're given the first preference to answer the client surveys.
Join the VIP community builder club exclusively made for potential affiliates to earn a 20% referral commission as opposed to the normal 10% referral commission to the regular users.
The paid ViewPoint panel pays its users via PayPal. The minimum payout is $15.
9. Swagbucks:
Swagbucks is the online rewarding site run by Prodege LLC. the same company which owns MyPoints and now Ysense that is listed above.
You can earn money by taking surveys on Swagbucks. Survey rewards start from 30 SB and go up to 250 SB in rare cases.
Swagbucks offers a limited time bonus often that increases survey rewards up to 150%. For example, a survey that pays 60 SB normally would pay 90 SB in the bonus period upon completion. Make sure to monitor the account daily to keep up with bonus rewards.
Also, there are other ways where you can make money and also save money with the help of Swagbucks.
If you're a frequent shopper, save hundreds of dollars by shopping on major brands after collecting coupons and cashback links on Swagbucks.
Apart from taking surveys, earn by answering polls, completing tasks and offers, watching videos.
Redeem SB for PayPal cash, Amazon, Walmart, Google PlayStore, Walmart, Steam, Macy's, Facebook gift cards.
10. Opinion Outpost:
Opinion Outpost is again operated by Survey Sampling International, Dyanta LLC. The same company that operates Opinion World.
While Opinion World's services are available on almost all continents, Opinion Outpost is made exclusive to the Americans and Europeans.
Opinion Outpost surveys usually last for about 10-15 minutes to complete on average.
And they pay about 5 – 50 points for completing each survey which is a pretty decent reward.
There are three ways the Opinion Outpost user can request a payout i.e. PayPal, Amazon, or iTunes gift card.
The minimum payout threshold is $10. Payments are processed instantly.
11. Valued Opinions:
The Valued Opinions Survey panel is one of my favorites. There will be more surveys to answer with a decent reward.
With 3 million panelists in its community, Valued Opinions is the best paid online survey site managed by Research Now.
A distinctive attribute of the Valued Opinions survey is they conduct surveys in over 25 categories. Valued Opinions users get full control over setting preferences in the profile.
While the shorter surveys pay $0.75, the reward rate gets as high as $5 based on the topic and length of the study.
Valued Opinions is one among very few survey panels that send invitations to take surveys regularly.
Their payment options include Amazon gift card, Prepaid card, and Airline mile credits.
12. Survey Savvy:
SurveySavvy is a unique research program operated by Luth Research.
SavvyConnect is the research app developed by Survey Savvy to take market research to the next level. It helps to learn the usage of the internet and other essential features to shape the future of the internet.
You can earn $15 per month just by installing the Savvy Connect app on your smartphone and mobile devices.
Besides, SurveySavvy also sends invitations to take part in research studies. They pay a minimum of $1 per survey and it's the only survey panel from which I regularly receive invitations to take part in surveys with a reward rate of $5.
Survey Savvy will send a check to the postal address if the account has at least $1.
13. Nielsen Computer and Mobile Panel:
Nielsen is the world's leader in market research. Pinecone Research at the top of the list is the survey panel run by Nielsen.
The same Nielsen operates a special research program called Nielsen Computer and Mobile Panel.
The primary motive of this research program is to collect the usage data of the internet. The study will be helpful to shape the future of the internet.
You can become a part of this research just by downloading and installing the Nielsen survey app on your mobile phone and PC.
For helping their research Nielsen rewards the users who keep their app installed on an active device. Besides, they get a chance to win $10000 with free entries into monthly sweepstakes.
These are the best paid survey sites. If you'd like to learn more about paid online surveys, continue to read the article.
---
What is Paid Survey?
Paid Survey or Paid Online Survey sites are online research programs which help brands and companies to collect views, opinion from their customers.
To help you understand let me explain you this with an example,
Let's take Facebook wants to research how people spend their time on Instagram. And the usage of Instagram vs YouTube.
While they can collect data backend when the users browse their Instagram account, it's impossible to get certain data about the usage of YouTube and of course, the user opinion comparing YouTube and Instagram.
One of the ways they use to learn the user opinion is through surveys. Online survey plays a very important role in this.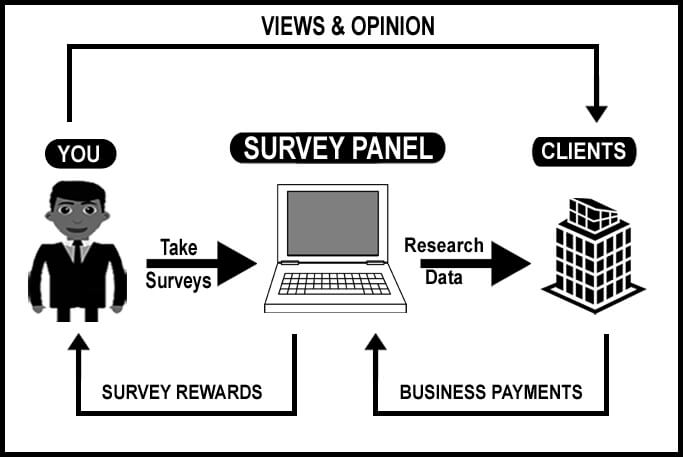 Facebook approach a market research company that operates a survey panel like few listed above to conduct a survey study on the usage of Instagram and the comparison between YouTube & Instagram.
The survey panels will already have a community of members like us to take part in the survey and give their opinion.
The survey site will conduct the survey and reward the user for giving their opinion. This is what we call the Paid Survey.
In this process, Facebook gets user opinion, panelists like us get paid for taking the survey, and the survey panel would have made its part as per business terms between them and Facebook.
How Survey Panels make the research effective:
While the survey panels have millions of members in its community, not everyone uses Instagram and YouTube.
Besides, the demographics requirements have to be considered. Like maybe Facebook needs the opinion of people ranging from 20 – 35 living in the USA.
That's where the survey panels do the trick. They don't allow everyone in their community instead they'll screen members to find the best fit.
They send survey invitations only to the members who fit the category using the profile that has been already filled.
And also, the invited members will have to take a screening survey before they can qualify to take the main survey.
In this way, the survey sites make the research effective so that their clients get real benefits through the research.
How Survey Sites benefit their Clients:
Since we took Facebook as an example above, let's consider Facebook as the client.
Facebook uses the user opinion about Instagram and the view about YouTube over Instagram to improve Instagram in the future.
By adding new technologies and features, Facebook will try to attract more Instagram users who're the heart of their business.
While research studies and paid surveys are conducted for several reasons, this is just an example to make you understand.
---
How much money can you earn by taking Surveys:
The immediate answer would be 'it varies'.
Yes, not all paid survey users earn the same due to certain factors.
Factor -1. User Country:
When making a rough calculation of how much can you earn taking surveys, the first factor that has to be considered is your country.
Survey takers from tier-1 countries like the USA, UK, Canada, Australia, New Zealand, European countries get more chances to take surveys and testing products.
While survey takers from tier – 2 countries like the Middle East, Asia Pacific region like Singapore, etc., and South American countries get enough chances to take surveys for money.
Survey takers from tier – 3 countries like African countries, parts of Asia, get very fewer chances to no chances to answer surveys.
That's why your country matters the most when it comes to making more money on Paid survey sites.
This is a very basic factor whether you take surveys or not. Only if you're given enough opportunity it's possible to earn more.
Factor -2. User Demographics:
The second most important factor that has effects on getting paid for taking the survey is user demographics.
Since the research is done precisely, only the targeted group of the population will be allowed to take part in the survey even if the invitation is sent to everyone.
Demographics restrictions include age, ethnicity, gender, etc.
To give you an example, a survey about baby products will allow only moms(female) to participate. Others will be screened out/disqualified.
Paid survey sites like Pinecone Research deal with the problem by recruiting only the targeted group of people during registration.
Factor -3. User Profile & Preferences:
Survey panels are designed in such a way that they send invitations based on the profile and preferences set by the user.
So, an individual profile and the preferences set by the user do affect the earnings.
While these factors are the basic ones that have a direct influence on how much a person can earn money on survey sites, there are a lot of minor factors with fewer effects that aren't discussed here.
In the end, few paid survey users make thousands of dollars per month and many don't cross hundreds most of the time. So, it's all about the factors listed above and how many surveys you complete.
---
Ways to Earn More Money on Survey Sites:
These are some of the proven ways to improve your earnings by taking paid surveys online.
Be a Tester:
When I say tester, I'm not asking you to look for an app testing job. It's about testing survey panels to find which works best for you in your location.
The online survey job reviews like this might be helpful to get the list of best survey sites. But surveys that pay might not work the same for everyone.
So, you must join as many survey sites as you can and test those survey panels to find the highest paying survey sites with more opportunities to earn more money.
Make sure you don't get overwhelmed by signing up in scam survey sites and fill your email inbox with spam emails.
Answer surveys slowly and truly:
By answering surveys slowly and truly, show that you're a reliable member of the survey panels.
Companies need useful information. You should take responsibility to fill the surveys with care.
Few survey panels treat such members as premium members giving them chances to participate in online discussion boards, premium high paying surveys, and product testing.
Make use of Survey Referral Programs:
Some of the survey panels will have a referral program where the panelists can make use of the opportunity to earn extra money by referring people.
Legit survey sites pay up to 30% referral commission when your referral completes the survey.
Check for additional tasks:
Usually, the Get paid to survey sites like Ysense will have additional ways to earn money such as offers and microtasks.
Make use of those additional opportunities to earn more on those survey sites.
You must be from a developed country to earn more:
Unfortunately, not everybody who wishes to earn money taking surveys is from the developed countries.
Only paid survey users from the developed countries can make a decent income through paid online surveys.
If you're from an underdeveloped country, feel free to avoid paid survey sites and seek some other online job that's available without investment.
---
FAQS Related to Paid Surveys:
Faq -1. How much does a survey pay?
While the average survey reward rate ranges between $1 – $3, some surveys reward even $10.
Faq -2. Is $200 per survey true?
Yes, it is true but in this case, these surveys are very rare. Usually, surveys of such kind allow only targeted potential panelists.
Faq -3. Can I make living with paid survey earnings?
Mostly the answer is No. However, some people make $1000+ on the paid survey sites.
Faq -4. What are the most common payment options?
PayPal, Check, Amazon.com gift cards.
Faq -5. Are Online surveys for cash real?
Yes, real! Make sure there is an option to withdraw earnings as cash instead of gift cards.
Faq -6: How to make more taking surveys online?
It all depends on the number of surveys you complete. Join more panels to participate in more surveys.
Faq -7: Is it possible to take surveys on a Mobile phone?
Yes, you can take surveys using a mobile phone. Check out some of the mobile-friendly survey sites.
Faq -8. Is it worth installing a mobile research app?
Few sites like SurveySavvy and Nielsen Mobile Panel pay a small amount of money just for installing the app. It's not great but $15 per month for doing almost nothing is not bad.
Faq -9. Do Online Survey Sites require registration fees?
No, genuine survey sites will never ask for any registration fees. The membership is free! In turn, some of the online survey sites are ready to give free sign up bonus of up to $25.
Faq -10. How to avoid survey screenouts?
Keep your profile up to date and answer the surveys carefully to avoid unnecessary screenouts.
---
Pros and Cons of Paid Online Surveys:
Pros:
You can create an impact on the future by taking surveys.
Learn a lot taking surveys in addition to making money.
Online survey jobs are very reliable in developed countries.
One of the easiest online jobs to earn money online.
Free to join, no hidden terms.
No technical skills are required. Even uneducated housewives can do this job in the free time.
We can take surveys using any device including mobile phones and tablets.
Get a chance to join the discussion boards to make it to the next level.
High paying surveys pay several dollars compared to regular surveys.
Earn additional income by referring your friends.
Get paid as cash for taking surveys or redeem the earnings for gift cards based on your preferences.
Cons:
Surveys will not be available 24/7.
It doesn't work great in undeveloped countries.
Survey screenouts are irritating.
Some of the panelists receive survey invitations very rarely due to their low-value profile in market research.
Survey sites take more time to process the payments except a few.
Hope you would have got an idea about online surveys.
Feel free to help paid survey users join the discussion by sharing your precious comments below.