I've been in the industry for more than a decade starting my online career looking out for making money opportunities.
Initially, I landed on blogs that recommended data entry jobs, paid to click, email reading job, etc.
After trying out a few things mentioned above, I found nothing worked well. Maybe I made more than $20000 from PTC sites in the latter part of my career with the help of the referral program. It's not going to work for 99.99% of internet users who are looking for MMO opportunities.
Now getting into the topic, along with other money-making programs, I came across the paid surveys.
I found paid survey reliable since I was able to make $0.50 to $1.50 per survey on average. Eventually making $5 – $10 per day taking surveys along with micro jobs. I think $10 per day as a noob is not that much worse.
For years I had experienced taking paid online surveys on different sites.
These are the two sites with different intent pays for completing surveys, the GPT site, and the survey panel.
I had worked on both the survey and GPT sites. Each one has it's own pros and cons.
In this article, I will discuss what is paid survey? The difference between working on GPT sites and survey panels and let you know which is the best to earn money.
About the Survey Panels:
Before getting into paid surveys, it's important to understand what is survey panel and why do they pay us.
Survey panels are part of market research companies that primarily work on creating a community to participate in the research.
The community will consist of members with different demographics who vary in location, age, gender, work, education, etc.
The survey panels will have these members classified based on their profile. When a research study is available, the survey panel will send an invitation to the members to take part in the survey.
Speaking about the members, they're general internet users with different intent and ideas. Even you can become a member of the survey panel to be part of hundreds of research studies conducted every day.
The Intent of Survey Panels:
Survey panels are primarily created to connect the consumers like us with the companies and organizations around the world.
The survey panels create surveys to collect opinions from its users on the products and services on behalf of the companies.
While most of the surveys will be about products and services or will be conducted to compare products and services, some of the surveys will be conducted for general purposes like collecting political views, thoughts on events, suggestions on advertisements, health issues, lifestyle, travel experience, etc.
The opinion collected from multiple users will be integrated to analyze the views of the users. The thoughts of the majority of users will be taken as a consideration to improve their products and services. Besides, improving the current products, the user view will be implemented in the upcoming products and services.
Case Study on Market Research:
Research is what I'm doing when I don't know what I'm doing.
Wernher von Braun
To help you better understand market research surveys, I will explain to you with an example. Let's take one of the most competitive industries as an example.
Suppose a smartphone company wants to know the smartphone users' views about the product of that company.
Let's name the company as MobileX and here's something they are looking to analyze,
MobileX wants to know how their mobile phone performs in the market.
They want to compare their brand value with other brands in the market(Example MobileX vs Apple vs Samsung).
How their mobile phone(s) is considered as advanced in technology.
What their mobile phone(s) lack to compete in the market?
What are the features smartphone users expect in the future?
The satisfaction of MobileX customers who're using their product.
Thoughts of mobile phone users of other brands about MobileX and the reason why they chose other brands over MobileX.
And there may be hundreds of reasons why MobileX wants to research.
MobileX will conduct a survey with the help of the survey panel.
The survey will consist of questions that are created in such a way to collect data based on the intent listed above.
Here are some of the sample questions listed for example,
Question – 1:
What smartphone do you use?
(a). Apple (b). Samsung (c). Nokia (d). MobileX
Question – 2:
Do you consider buying a Smartphone within 6 months?
(a). Yes (b). No
Question – 3:
What important Feature do you consider while purchasing a Smartphone?
(a). Camera (b). Processor (c). RAM (d). GPU (e). Others
Question – 4:
What is your preference while purchasing a Smartphone?
(a). Price (b). Flagship (c). Brand (d). Design
*These questions are just examples and they don't reflect any real market research survey.
Result of the Survey:
The MobileX now knows the user preferences of both MobileX users and other smartphone users.
Based on the survey results, they will tweak their future projects to attract more customers.
Market research remains one of the important elements of the development process.
Without market research, MobileX or any other company will lose its ground in the competition without knowing what to do.
This is the importance of market research and survey panels remain the pillar of market research.
Benefits that Users Enjoy answering surveys:
From the user point of view, the survey panel allows us to earn money for answering surveys.
Consumers like us want to make our lives better with the latest technologies. To do so it's important to let the companies know about our thoughts. Participating in market research is one of the ways to express our views.
But in the busy world, no one can allot time to answer questions for free.
That's why the survey panels have introduced a new concept called paid surveys. The paid surveys are rewarding programs that pay the users for answering surveys.
Anyone who fits the demographic criteria can become a member of paid survey panels to earn money by giving opinions.
The opinion will be very helpful to shape the future and at the same time getting rewarded.
In addition to paid surveys, survey panels are the home to some of the best affiliate programs. By participating in the affiliate program one can earn hundreds of dollars by generating leads to the campaigns.
Paid Survey Sites vs GPT Sites:
I hope you know what is an online survey, it's intent, and why they pay money to the survey takers.
While people think survey panels are the home to paid surveys, there are Get Paid To programs that offer the functionality of making money taking surveys.
Let's see the difference between the paid survey sites and the GPT sites and decide which is the best to make money taking surveys.
Working of Paid Survey: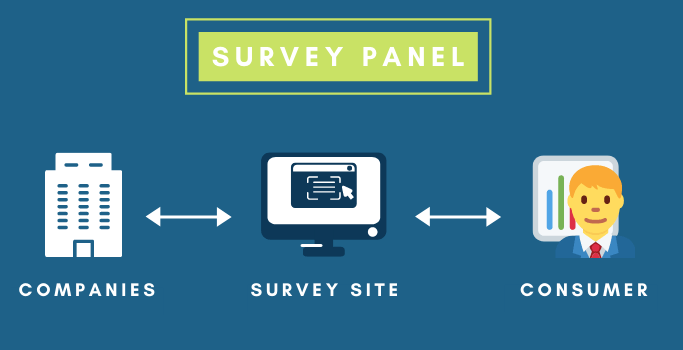 The paid survey sites are the direct part of market research companies conduct online surveys on behalf of the companies.
These survey sites will have a community of members from various locations, backgrounds, careers.
When the clients connect the survey panel to conduct the market research survey, they will automatically send survey invitations to the members who are relevant to the study.
For example, if MobileX wants to conduct a market research survey, the survey panel will send invitations only for smartphone users.
In addition to general filtering, survey panels may add additional filters based on the client's needs. For example, if MobileX wants to target only male users above 25 years old who users one of the following smartphones Samsung, Apple, the survey panels can target members using filters.
The targeting enables the chance for the clients to acquire only precise research data based on the filtering.
Taking Surveys on Paid Survey Sites:
When people plan to earn money by taking surveys, the first preference would be the paid survey sites.
In fact, most of the internet users know only survey sites as the source to earn money by answering surveys. As per the thought, the survey sites are the main source of making money taking paid surveys.
The survey site will have direct connections with their clients so the pay per survey would be higher since no middle person involves in their process.
The members of paid survey sites can expect to earn from $0.50 to $4 per survey on average while some of the sensitive researches that collect personal data will pay you more.
Similarly, the paid survey sites pay users for product trails. When the user opt-in for a product trial, the survey panel will send free products and they pay money for the opinion in addition to the free product.
Clinical trial programs pay more than $50 for participation.
By being part of paid survey sites, you can enjoy direct benefits, higher survey rates, product trials, and opt-in for premium surveys.
Besides all these benefits, the survey panels will have mobile survey apps developed for smartphone users to access the account and surveys with one touch.
Some of the best-paid survey sites include YouGov, Toluna influencers, Paid Viewpoint. And Pinecone Research is the only survey site that pays a minimum of $3 per survey.
The market research companies like Nielsen panel and Ruth Surveys pay up to $150 for installing their research software and app in your device connected to the internet.
Taking Surveys on GPT Sites: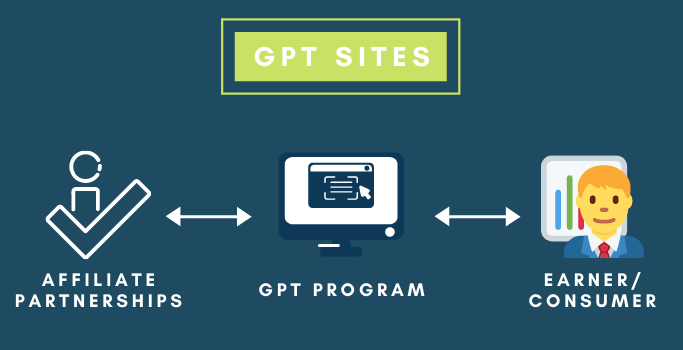 The GPT sites are third party programs that do not have anything to do with the market research process.
These sites are simply created as a rewarding program with a paid survey section in addition to other features such as paid to read, paid to click, social media tasks, cashback tasks, etc.
GPT sites partner with pay per action affiliate programs and few like Swagbucks directly with market research companies to enable paid survey opportunities to its members.
The process of taking surveys and earning money is the same both on the paid survey sites and the GPT sites.
One of the best things about GPT sites, when compared to the paid survey sites, is that the GPT sites will have hundreds of survey opportunities from different market research companies at the same time.
For example, Ysense surveys partner with a lot of networks and market research companies like Toluna, Dyanta LLC. (Survey Sampling International), Peanut Labs, Global Surveys, to offer hundreds of survey opportunities per day to its members.
While the paid surveys are the primary tasks on GPT sites, other benefits of working on GPT sites is that you can earn money by doing data work, completing offers, shopping online, playing games, watching videos, etc.
The downside of GPT sites is the survey rate. Since GPT sites are the affiliate who run paid survey campaigns, they will cut some of the commissions before they pay the users.
The GPT sites will have to pay operation costs such as hosting, human resource, developer, etc. So, they will cut a part of the pay as commission.
For example, if a survey pays $1, the end-user will receive only $0.70 while $0.30 will be taken by the GPT site. The value does vary based on the site from $0.50 to $0.90.
You will be paid just $0.50 in a GPT site for taking a survey while the same survey will pay $0.90 in another GPT site.
So, it's important to choose the reliable GPT site(s) that pays a higher commission for taking surveys.
Which one Should you Go for? A GPT Site or a Survey Panel:
The more decisions that you are forced to make alone, the more you are aware of your freedom to choose.
Thornton Wilder
One of the best questions in the simple MMO industry. Which one should I go for?
With experience in taking surveys for over years and working with survey panels and GPT sites as an affiliate, I feel I can help you with this.
Unlike freelancing jobs, paid online surveys are a bit different.
People from various countries in the world will have variable experience based on their location.
While the residents of the USA, UK, Australia, New Zealand, Canada, few APAC, and European countries get more opportunities in participating in paid surveys and trials, the rest of the world doesn't make much from the surveys.
This is because the world's finest companies that involve in market research are located in these countries and the majority of consumers are from that same tier-1 countries.
With US residents making the most out of survey panels, others fall below the USA.
If you're from one of these countries then you can continue to find which works better.
Balanced Decision is Good:
From my point of view, I would recommend you to test it by yourself to find which works best for you based on the following formula.
You must be part of at least 5 – 10 survey panels, complete your profile and test the frequency, screenout percentage, and rewards pay. List out the top 3-5 survey panels that worked best for you and continue with that.
This is going to take some time but if you need a good experience you should go for that.
Here I have listed of top 10 tested survey sites you can consider to kick start.
Coming to the GPT site, you can choose to work on 1 – 3 best GPT sites with more opportunities and that takes low commission percentage.
Why Should you work on both GPT sites and Survey Panels?
Both the survey panels and the GPT sites have cons. So, to match the negativity, you should take surveys on both to make the most out of paid surveys.
Advantages of GPT Sites:
Survey panels are known to send very fewer survey invitations with 2 – 10 invitations per week, while the GPT sites are known to pour hundreds of survey invitations per day.
Similarly, most of the survey panels won't have cash payment via PayPal while GPT sites have a wide range of options.
GPT sites have other options to earn money such as micro jobs while survey panels don't.
Advantages of Survey Panels:
Direct market research programs tend to pay more compared to third party GPT sites.
Users who take surveys on survey panels tend to experience less screen out rate compared to the GPT sites since survey panels only send invitations to relevant surveys while GPT sites list random surveys and survey routers that post-filter the users.
Survey panels send survey invitations to email. You will have to log in to the GPT site or install their addon to find surveys on GPT sites.
Some of the GPT sites might turn scam while survey panels are large companies that will never cheat its members.
Head to Head Comparison:
| | | | |
| --- | --- | --- | --- |
| Factor | Survey Panel | GPT Site | Remarks |
| Pay Per Survey | Reliable | Low | Survey panels pay pretty high for surveys when compared. |
| No of invitations | Less | High | Opportunities are very high in GPT sites. |
| Screenout rate | Low | High | Survey panels send invitations only to the relevant surveys. |
| Payments | Reliable | Best | GPT sites have diverse payment options compared to Survey panels. |
| Product Trial | Available | Not available | Survey panels of market research companies offer free product trials. |
| Availability | Restricted | Worldwide | GPT sites accept members from all over the world with fewer restrictions. |
| Reliability | Low | Not bad | GPT sites have more opportunities to earn other than paid surveys. |
Final Words on Comparison:
Both survey panels and GPT sites have their own pros and cons. Been a part of these for a few years, my point of view is we should consider both and enjoy the features that bring profit.
With the thoughts given above, you must test the survey panels and GPT sites yourself to find out which works better for you.
Once you're comfortable with a few sites, you can choose to work on those to earn money taking surveys.
Being the part of 2 – 5 best survey panels and 1 – 3 GPT sites should be ok.
Don't sign up and try whatever you find online. Go only for the best with a good reputation.
In the end, if you're looking for a reliable option to make money online, you can choose to become a search engine evaluator.