If you're the one looking for a high paying potential survey panels, then Valued Opinions is the one you should consider. I've been the part of Valued Opinion for years along with other survey panels where I found that the Valued Opinions is the only survey panel that sent me the survey invitations consistently with higher reward value. Take your time to read more pros and cons below in the Valued Opinions Review.
About Valued Opinions:
Research Now is running the Valued Opinions since 2004. With over 3 million members, Valued Opinions values it as one of the topmost research panels in the world like LifePoints.
With a unique approach, Valued Opinions continues to grow both as a reliable research community and as a top rewarding site on the internet.
Valued Opinions Review:
Being one of the world's largest market research community, Valued Opinions is the right place for the paid survey enthusiasts to earn money by taking surveys, completing dairy studies, and by testing new products.
By sharing your opinion, you can help to share the future of products and services of big companies and organizations.
Valued Opinions is 100% safe to use as they protect the user data anonymously with extra care.
Valued Opinions user Demographics:
Officially, Valued Opinions accept users from 20+ countries in the world.
USA, UK, Australia, New Zealand, and Asia Pacific regions including South Korea, India, Malaysia, Taiwan, Singapore, are some of the mentionable locations where Valued Opinions operate their market research services.
Valued Opinions is known to provide customized services based on the location. This includes region-based rewards and surveys.
Valued Opinions Surveys:
As said earlier, the Valued Opinions surveys are high paying surveys. Since they pay high, most of the surveys will be very long.
Valued Opinions is one among very few survey panels that send at least a few survey invitations per week.
Members with a great profile in terms of paid surveys would get several survey invitations daily.
This ensures, that the members earn a reliable amount of money every day to redeem a decent amount of money at the month end to pay bills or complete the grocery shopping.
Valued Opinions will send the invitation to take the survey via email. All you have to do is click start the survey, then clear the screenout survey to take part in the main survey and earn rewards.
Importance of Updating User Profile on Valued Opinions:
When I said big, it's really big. While YouGov has some cool survey categories, Valued Opinion is the only survey panel where you can find surveys in over 25 categories.
The categories include Business, Insurance, Children, Automotive, Medical specialists, Technology devices, Utilities, Health, Entertainment, Food & Beverages, Travel, Investments, IT Decision making, Electronics, Mobile & Gadgets, Shopping, Cashback rewards, Recreational vehicles, Leisure & Interest, Personal banking, Technological activities, Personal & household, etc.
Once you join Valued Opinions, it's important that you must complete all the profile questionaries to let them know your interest.
Only then they'd send survey invitations relevant to your profile. Incomplete profile or false profile may lead to frequent screenouts.
Survey taking experience on Valued Opinions:
When it comes to the survey-taking experience, Valued Opinions is not user-friendly.
Valued Opinions surveys are very long that will make the survey takers tired.
Boring surveys are one of the main reasons why a lot of survey takers answer randomly after a certain period of time while answering surveys.
In addition to this, the questions in surveys are crowded which are mostly choosing type. This makes it hard to match the questions and choices. The survey taker will have to click the exact mark spot to choose the answer while it's ok to click any part of the choice including the text on other survey panels.
Valued Opinions need to improve the survey-taking experience to make it easier and collect reliable research data at the same time.
Valued Opinions review – Survey Rewards:
While the survey experience is not good, the survey rewards don't disappoint us.
As previously mentioned, Valued Opinion surveys are high paying like Ysense.
Expect a minimum of $0.75 per short survey while the highest can reach $2 – $5 on average in the case of the longer one.
Also like PaidViewPoint, even if the user gets screened out at the middle, Valued Opinions will reward the user with a part of the promised amount.
Test Products to earn cash and Free products:
Valued Opinions product testing is available for selected demographics.
Enjoy free products that are given for testing and once the testing is complete cash will be credited to the account.
Collect Achievement Badges on Valued Opinions: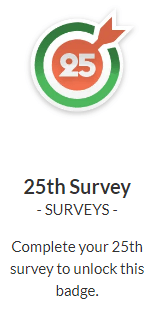 The Valued Opinions users can collect the badges by reaching certain milestones.
There are five level main badges – Bronze, Silver, Gold, Platinum, and Diamond.
And there are a total of over 17 secondary badges that are to be unlocked under the main category.
Usually, the dedicated members would collect all the badges within a few months.
Valued Opinions App:
Currently, there is no official Valued Opinions mobile app available for both Android and IOS devices.
However, if you're looking for online jobs using mobile phone, you may try these money-making apps.
Valued Opinions Referral Programs:
Again, there are no referral programs available for the regular Valued Opinion community members.
If you're looking for a paid survey referral program, you may try Swagbucks.
Valued Opinion Payments:
The payment methods of Valued Opinions vary based on the region of membership.
Valued Opinions process the payments instantly, it's not going to take weeks as they do it on other survey panels.
Here are the payment options available on Valued Opinions Amazon gift cards, Airline mile, Flipkart, Prepaid card.
You can also donate your earnings to a charity.
Pros and Cons of Valued Opinion Panel:
Pros:
Highest paying survey panel in the world.
Find surveys in 25+ categories only on Valued Opinions.
Operated by one of the oldest market research companies.
Get a lot of survey invitations to participate in surveys.
Gives an option to express interest by updating profile questionaries.
The best average payout for the surveys in the online market research industry.
They reward even if the user gets screened out of the survey in the middle.
Available in different languages based on the region.
Customized reward option is available in your country.
Payments are processed instantly.
New users will not get confused using Valued Opinion website.
Cons:
Poor survey taking experience on mobile and desktop devices.
Most of the surveys are very long.
There is no option to withdraw the earnings as cash.
There are a lot of user complaints on Valued Opinions at BBB.
Many users say their account has been banned without any reason.
Poor customer support as per the user reviews.
Final words – Valued Opinions review:
Valued Opinions is an established survey panel with a huge community of members. While I didn't experience even a small problem with Valued Opinions, there are few user complaints on BBB that has to be considered. They should continue to address the problems.
In addition, Valued Opinions should improve the user experience for taking surveys. Long and crowded surveys are always boring.
Otherwise, Valued Opinions is the best survey panel when it comes to high payout for surveys and sending more survey invitations.
Finally, I review Valued Opinions as one of the top ten survey panels in the world. You must definitely try Valued Opinions since it can be called the one among few survey panels that can be trusted for providing a decent earning opportunity online.