We use mobile phone to play games, watch videos, shop online and many mobile interesting things. Ever wondered if it is possible to earn money using smartphones? There are over hundreds of ways to earn money using mobile phone. The opportunity is made very simple for the Android and iPhone users through money making apps. You can make money from apps by doing simple activities. Read the list of best money earning apps that pay you real money.
How to make money from apps:
Previously, it remained a dream for years to find a way to make money on smartphones. Smartphone users had to use their mobile browsers to find ways to make money on their phone. Most of the money making programs were not compatible with the smartphone browsers. But later it was made possible to earn cash through money making apps. The money making apps are the customized applications specially created for the Android smartphones and iPhone to earn money directly using the app. Most of the companies create free money apps, so you don't have to worry about paying subscription fees.
It's very simple to use apps that pay you money. All you have to do is install the app on your smartphone, create an account and follow the instructions to earn money. Most of the tasks are very simple that a school grade kid can do it. To reveal the truth, the money apps are not going to help you earn thousands of dollars. These are the apps that can help you to earn few dollars every day for completing simple tasks.
Overview of money making apps:
The money making apps pay the users for doing tasks like shopping, testing, app installs, sign-ups, paid surveys, posting reviews, playing games, watching videos, making purchases, tracking fitness, viewing websites, answering quiz and polls, searching the web, using as default lock screen, browsing, listening to music, sharing, completing recharges, discovering offers, referring users, and more.
All these tasks will not be available in a single money making app. These are the tasks to let you know, how to earn money from apps. Based on the nature of the company, the tasks available on the app will vary. In the case of a money app created by the market research company, it will pay only for completing surveys. Based on your interest, choose the apps that make you money. It is recommended to try multiple apps to find the one which works best for you.
Most of the make money apps are region based programs i.e., the app will work only for users from certain countries. The apps based on shopping and cashback support users from tier – 1 country like USA, UK, Australia, Canada. So, before using an earn money app make sure that it is available in your country.
How do these apps pay you money:
The apps listed below pay real money for completing tasks & offers. Most of the apps credit points or app currency which can be redeemed for cash or gift cards. PayPal, Amazon gift cards, iTunes gift cards, Google play credits, Cryptocurrency, travel rewards, dining rewards, movie tickets are some of the common payment methods.
List of money making mobile apps to earn real cash:
Here is the list of mobile apps to make money using the smartphone. All these are free money apps to earn cash without investment. Most of the apps are compatible with both Android and iPhone smartphones. Read the money making apps review. Then just click the button given below the app(s) listed below, download & install the free cash app from Google Play store or App store and follow the instructions to earn money.
1. Swagbucks:
The Swagbucks is the most popular rewarding programs in the World since 2006. Swagbucks has paid over ten million dollars to its fifteen million members in past. While their members had to log into to website each time to access their account, Swagbucks have released apps for Android and the iPhone users to access their program easily using the smartphone. With a single touch, the members can find the opportunities available to earn money in Swagbucks.
Swagbucks rewards it users for completing surveys, offers, tasks, answering polls, shopping, finding deals, watching videos, referring friends and more. On average Swagbucks users earn up to $5 per day. Log into Swagbucks app daily and complete all the tasks To do list in order to earn a bonus.
The Swagbucks mobile app is very user-friendly, that the beginners can start earning money immediately. Swagbucks is also available for desktop users to earn money without downloading their mobile app.
Swagbucks, pay its own currency for completing tasks i.e., SB(Swagbucks). The SB can be redeemed for cash through PayPal or gift cards of major brands like Amazon, Wallmart, Bestbuy, Steam, Facebook, Flipkart etc.
2. ibotta:
The ibotta is the mobile technology company started in 2011. Like Swagbucks, ibotta is the world's largest cashback program for the mobile phone users helped their customers to earn $350000000 till date. In my point of view, it's best to save money following simple steps in day to day life instead of working to earn money. The same applies here, while the user has to spend hours to complete tasks to earn $5, the wise move will be saving the same $5 within seconds. If you're ready to save hundreds of dollars every month then ibotta is the right app for you.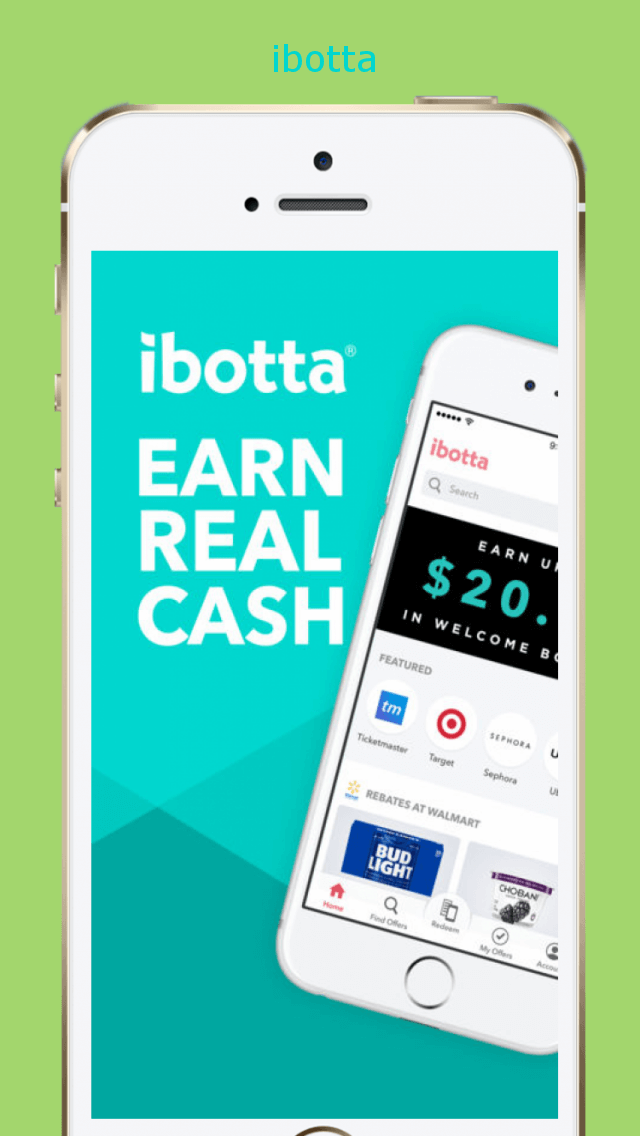 By using ibotta earn cashback in everyday purchases. They help their app users to find shopping rebates, daily coupons, money back deals near their location within seconds. Earn cashback on every purchase while you shop, travel, dine out, avail services etc. To earn cashback using ibotta, before shopping find the cashback rebates using the app. Then complete your purchase on favorite stores, retailers, bars, restaurants, and apps. Scan the receipt using the app to receive the cashback.
This mobile app will help you to save money on the day to day purchases like groceries, liquor, food, taxies, clothes, electronics and more and more and more. ibotta works with leading brands and retailers like Walmart, Hotels.com, Uber, Target, eBay, Safeway, Best buy to make this cashback program very helpful to the consumers.
The ibotta users can cashout their earnings through Paypal(cash), Venamo and gift cards of major brands. Start your day with ibotta to save a decent amount of money at the end of the day. There will be few hundred dollars saving money in your wallet at the end of the month.
3. Toluna:
The Toluna is one of the leading market research companies in the world since 2000. Toluna helps the brands, companies, and businesses to collect consumer views about their products and services. Toluna gives more opportunities to its users to earn money compared to its rivals. Previously, Toluna can be accessed only using the browser on a computer or mobile phone. Now the Toluna mobile app has been released for the Android and iPhone users with incredible features. Make use of one-touch access features to earn money easily using Toluna mobile app.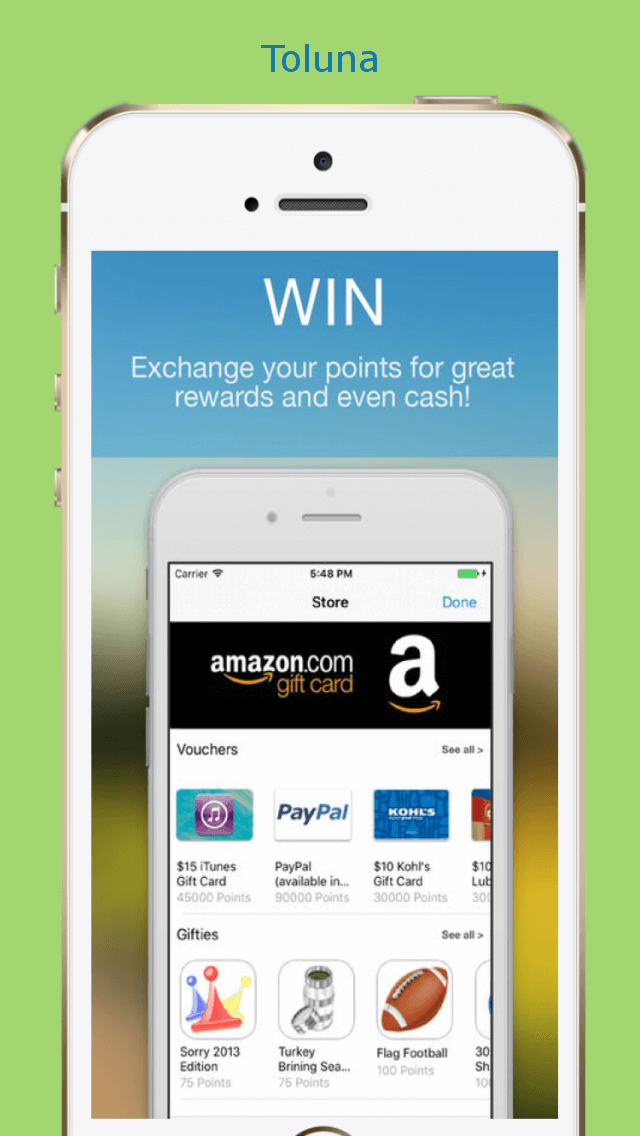 While the paid survey is the primary option available to earn money on Toluna, there are also other options available to earn money. The Clinical Trial, product testing are the high paying tasks pay up to $200 for the members from the selected region. Apart from these, Toluna is a great community to improve our knowledge participating in debates, events.
The Toluna mobile app users can redeem their points for cash, products and gift cards. PayPal and check are available for Cash withdrawal. Exchange points for gift cards of Amazon, Steam, Facebook, Bestbuy, Walmart, Google Play, iTunes, Hulu, Flipkart, and other major brands on Toluna.
4. Ebates:
The Ebates is operated by one of the best internet company, the Rakuten. Rakuten is not just an e-commerce company, but also a leading affiliate marketing company in the name of Linkshare.  Ebates is run by Rakuten, works on helping online shoppers to find deals and earn cashback. If you're an online shopping lover, then Ebates is for you. Ebates users get 40% cashback at over 2500 major brands.
Amazon is the largest e-commerce site in the world and the most used brand to shop online. If you shop frequently in Amazon.com directly, it means you're losing hundreds of dollars for almost nothing. Shop on Amazon through Ebates to earn maximum cash back for your purchases. Apart from Amazon, Ebates also offers cash back for shopping on the major brands like Walmart, eBay, Macy's, Groupon, Kohl's, Nike etc.
To earn money using Ebates, go to the Ebates app, check for the offers in your favorite stores. Click the offer to confirm the shopping, complete the purchase. Ebates will automatically credit the cash back amount into your account after receiving the confirmation from the store. Apart from earning cash back, Ebates also help to track & manage your monthly shopping expenses.
Ebates will send the cash back earnings to your PayPal account or in the form of the Big fat check. New users can earn free $10 instant bonus upon completing the purchase for $25 in total.
5. Apptrailers:
Bored with surveys and shopping? Here is the money making mobile app for you to earn money by watching videos and playing games. Apptrailers is the free cash app available for the Android and iPhone smartphones. Apptrailers is a very interesting app that the app users will doubt if it is an earn money app or entertainment app. Enjoy your day watching videos and playing games and at the same time remember that you're paid for that.
Using the Apptrailers app, watch the hottest videos in high definition and get paid for it. Enjoy watching Fun videos, Movie previews, game trailers, upcoming TV shows on Apptrailers. Recently, Apptrailers has introduced Trivia games to earn money playing games on mobile phone. Also, earn bonus points answering interesting quiz questions and improve your general knowledge. Now log into Apptrailers with Perk platform to keep your progress across multiple devices and convert Perk points into cash using Perk Plastik prepaid debit card.
Apptrailers pay its users through PayPal. Gift card redemption options are available – Amazon, Starbucks, Target, Groupon and more brands.
6. Google Opinion rewards:
The Google Opinion Rewards is the simplest money making app available for both Android and iPhone. Since this app is released by Google itself, you can expect something potential from this app in the future. Currently, Google Opinion rewards pay for answering simple surveys. The surveys are very simple that even a kid can answer it.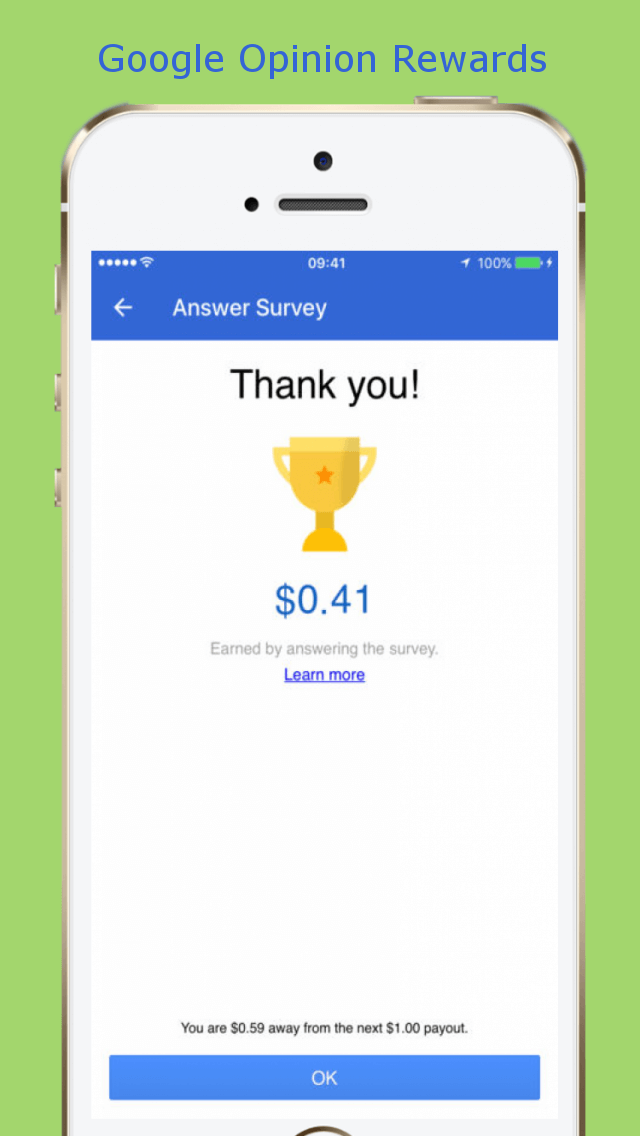 Most of the surveys will be related to review based questions like "Which is the best designs?", "Which of these apps is outstanding?", "Who is your favorite?", "When will you travel?". Google Rewards Opinion app will pay up to a dollar for completing the questionaries. New users must answer basic questions to let them know about user demographics. So, whenever there is a chance available to earn money, the app will send a notification. The frequency is a bit less at a range of minimum one survey opportunity per week.
The credits can be redeemed for Google Play app purchases and in-app shopping. Google Opinion Rewards app has the feature to withdraw the earnings through PayPal in selected regions.
7. Field Agent:
The Field agent is a bit interesting mobile money app compared to other money making apps. As the name suggests, Field Agent is the app that pays you for working as a Field Agent. To earn money using field agent the user must complete small jobs available near their location. This is a bit like the Game Pokemon Go, where the users get paid for tasks easier like playing mobile games.

To earn money using the Field agent app, the user must download the app, complete the profile. Then browse the jobs available in your area. Find the one that is interesting, accept the job and complete the jobs within 2 hours. Once completed, submit the work for inspection. One of the Field Agent professionals will review the submission and approve it. Get paid instantly after the approval.
Usually, the jobs available on Field Agent will pay $2 – $12. Field agent users will get paid via bank deposits or Dwolla based on their choice.
8. Sweatcoin:
Got a plan to work on your fitness? Don't miss to install Sweatcoin in your phone. Sweatcoin will convert every outdoor steps into gadgets, sports & fitness kit, training services, nutrition products and more. Sweatcoin is a simple app that work using GPS in background to track the user activities. The fittest Sweatcoin user can stay healthier and wealthier.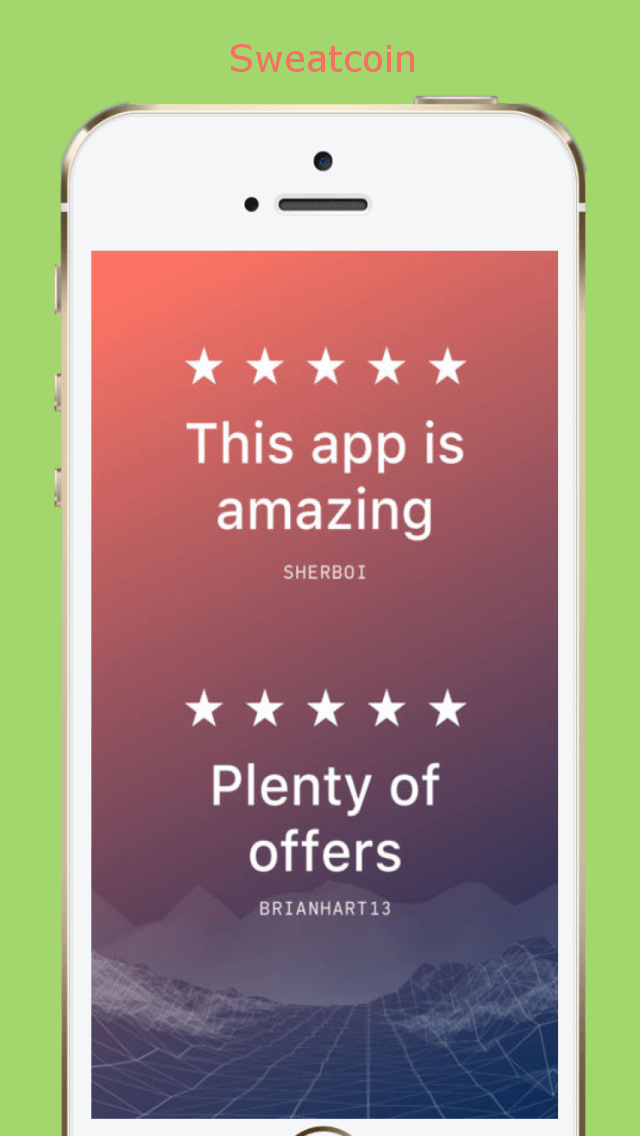 Start your self-fitness program today by installing the Sweatcoin app. Sweatcoin will automatically convert each step of yours into digital currency i.e., "Sweatcoin". Once you have enough Sweatcoins, spend them in gadgets & services provided by Sweatcoin partners or you can donate them to charity or exchange with your friends and family.
The Sweatcoin app is also available for wearable products such as Apple watch. So, if you worry about your smartphone battery getting drained quickly, use it in your wearables to stay convenient and track your fitness program accurately.
9. Make money:
If you're looking for only cash, no gift cards mobile app, Make Money is the app for you. The Make money is the earn free cash app that pays real cash that can be withdrawn to your bank account. Make money app works like a Get paid to site. The get paid to sites pay its users for completing simple tasks following the given instructions. The Make money app works the same but this is made possible to earn using the app created for Android and iPhone smartphone devices.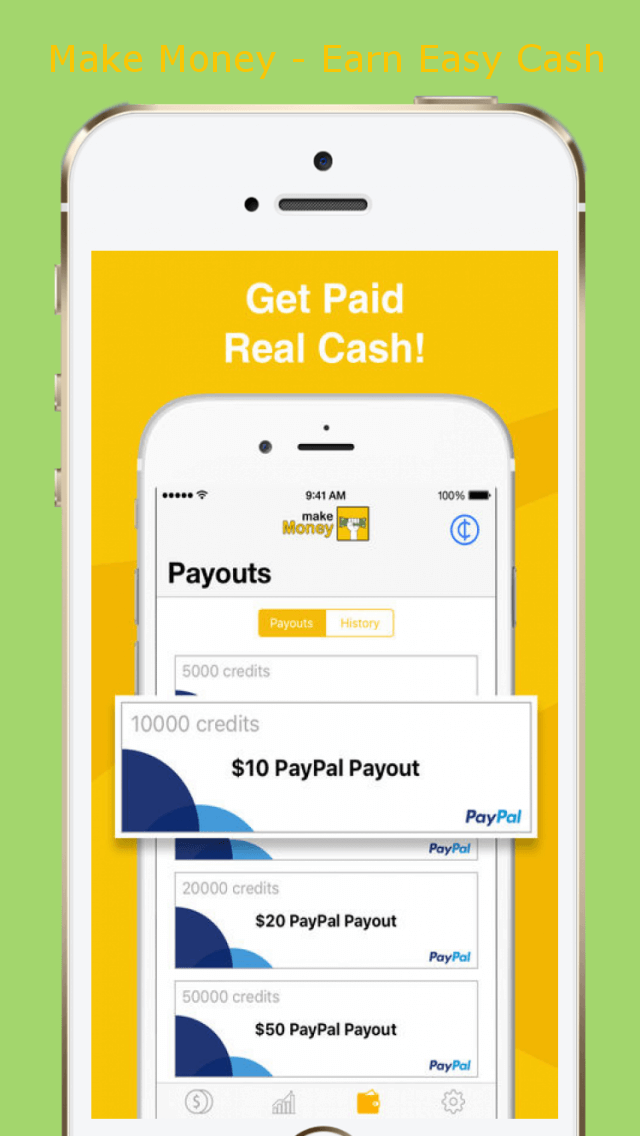 After installation, start completing the tasks on Make money app to earn credits. The tasks will be mostly like giving the opinion, trying apps, completing surveys, playing games, watching videos, testing services etc. Make money helps the pays better and faster than other reward apps. Smartphone users can earn money in a simple and fun way.
The Make money apps users can redeem a minimum of 5000 credits for $5 cash. All cash payments are processed via PayPal using mass payments to avoid transaction fees.
10. Foup:
Are you a photographer? sell your photos using Foup app. This app works great for both Amateur and expert photographers. Foup helps to sell your photograph to top brands in the world like Nivea, Air Asia, Bank of America, Pepsi, Volvo etc. If you have a great interest in photography, Foap helps you to showcase your photographs in front of thousands of photographers in their community and at the same time earn money.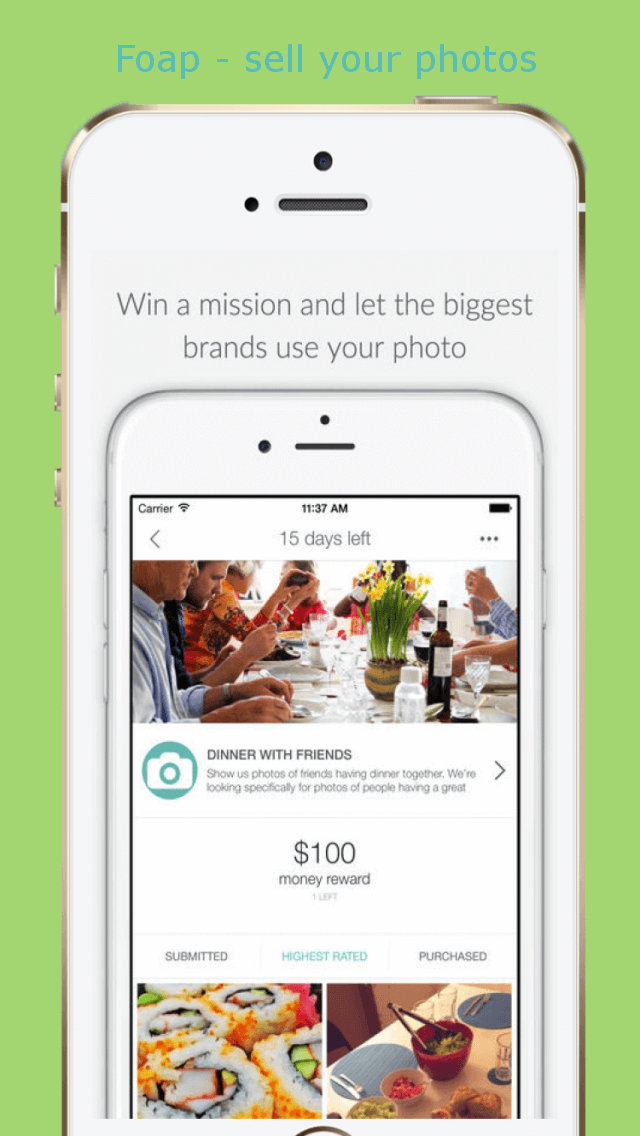 To start earning join the Foap market, upload your photos, follow other photographers. Foap will help you to sell your photos to top brands. Also, Foap will also distribute your photos through partners such as Getty image to increase the chances of selling more photos.
Foap will pay 50% commission for every sale made through their platform. Cashout your commissions through PayPal.
Foap is not only the place to earn but it is a photography community. Get feedback on your photos from experts. Link your photography portfolio to showcase your expertise in front of potential buyers. In simple, earn money for your passion.
11. Checkpoints:
The Checkpoints is a unique app that pays the users for scanning the barcode of products while shopping in any stores across the country. Checkpoints make the rebates program simpler than the ibotta and Ebates. Checkpoints had paid more than $5000000 to the users in points and prizes just for taking a second to scan the barcode while shopping. There are many more features available in Checkpoints to earn money when you're not shopping.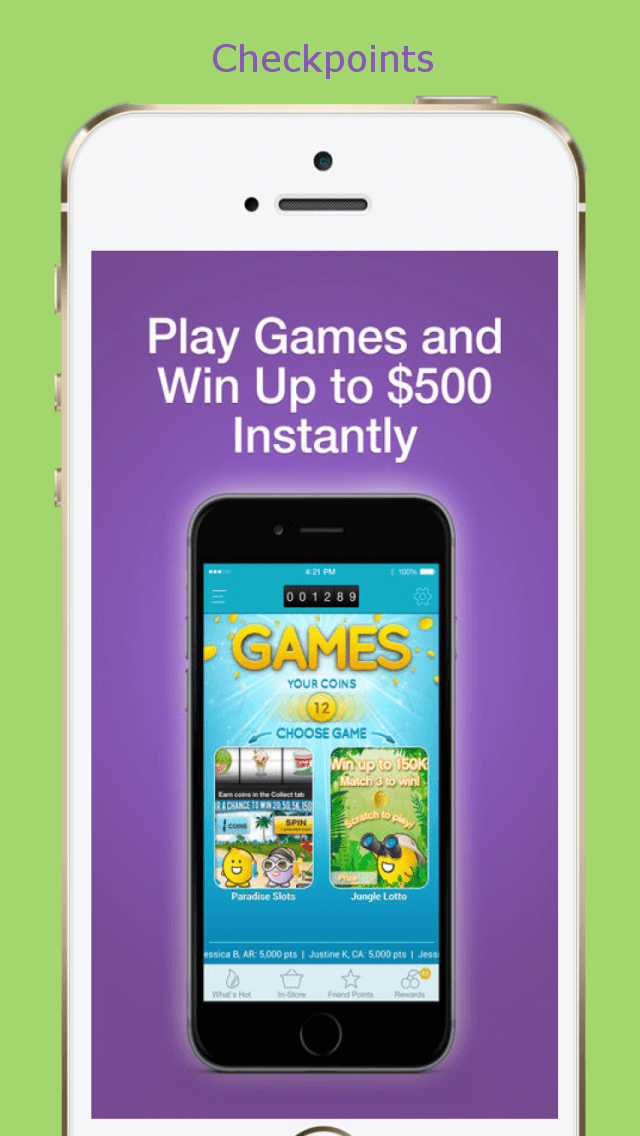 Use checkpoints to scan the barcode of products like Coca-cola, Dreyer's in the stores to collect checkpoints. While you're at home, make use of the Checkpoints app to earn money answering surveys, shopping online using partner apps, playing games and more. Checkpoints pay $25 worth gift card for referring friends. Play Loto scratcher, Paradise slots in the app using points to win big prizes.
Redeem the checkpoints for gift cards of Amazon, Walmart, American Airline miles. Also, the checkpoints can be exchanged for gadgets like the gaming system, tablets etc. The downside of Checkpoints is that you cannot earn real cash using their app.
12. iPoll:
iPoll is a survey panel that rewards its users for completing surveys. Recently, they have launched more features to earn money on both PC and mobile phone. Make money by sharing your opinion about the products you buy and the places you visit. Earn free rewards instantly completing simple market research tasks.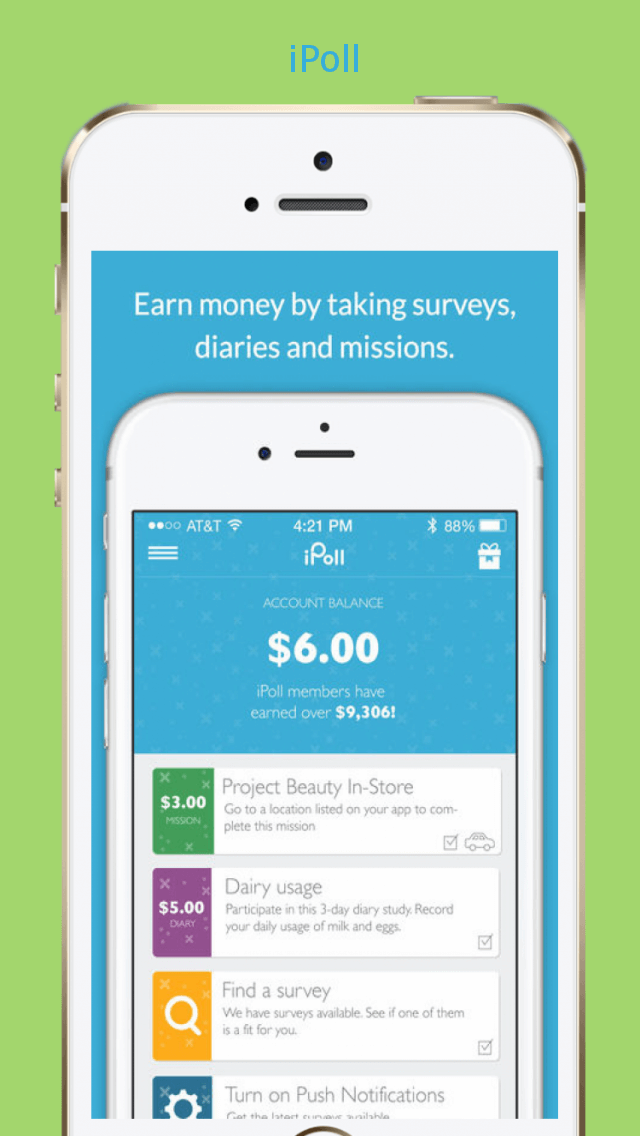 Join iPoll or download the iPoll app available for the Android and iPhone devices. Answer all the basic questions such as experience, brand awareness, complete your profile to let them know which mission suits your interest. Once done, iPoll will notify you whenever there is an opportunity to earn money. Apart from basic surveys, iPoll also pay for fun tasks such as taking photos, visiting store, and testing products.
Withdraw the earning on their website through PayPal or convert gift cards of Amazon, iTunes or Airline credit. iPoll services vary in different countries check out their terms to learn more.
13. Shopkick:
The Shopkick is the shopping mobile app like Ebotta, but their shopping tasks are little bit challenging. The significant feature about Shopkick is you don't have to make any purchases to earn money. Whenever you go to a shopping center, mall or a store complete the challenges to earn rewards. Millions of Shopkickers have earned over $80 million using their app.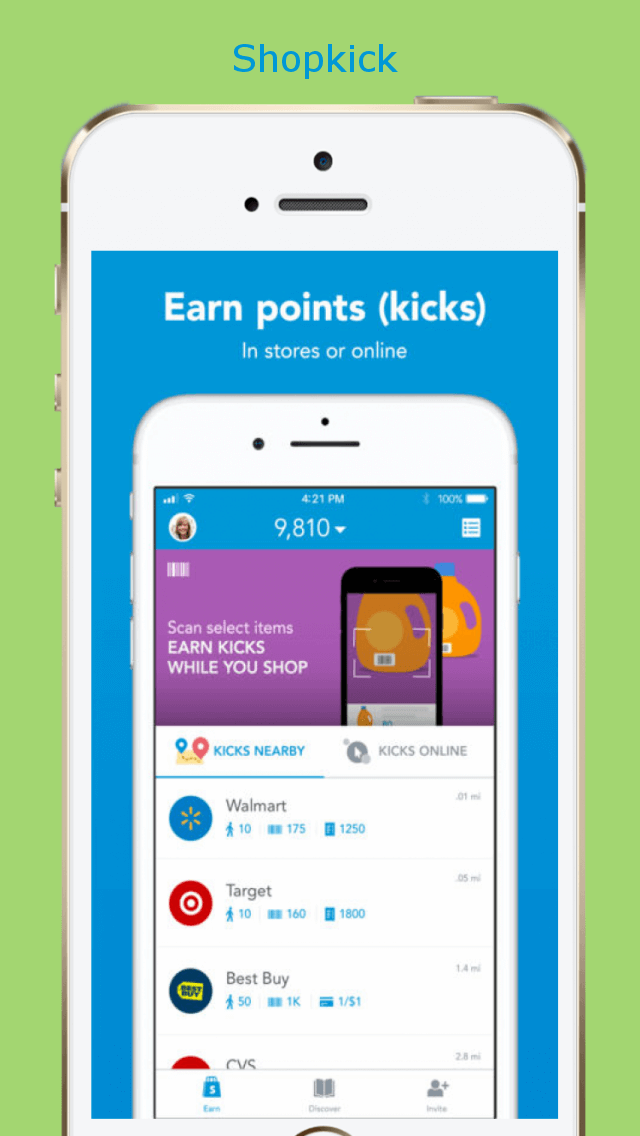 Once the app is downloaded in your phone, discover the challenges to earn kicks. Whenever you enter a store, just find the items on the app and scan their barcodes to accumulate point(kicks). To earn more kicks just purchase that product if there is a necessity and upload the receipt in the app. Shopkick also has more challenges for online shoppers too.
Shopkick is a great app for students and people who like to roam around to convert fun into money. Cash in the kicks for free gift cards to Target, Walmart, Amazon, Starbucks, Sephora, and 20 more top brands.
14. Survey On To Go:
The Survey on to go is a unique paid survey app that pays real cash and not points. This helps the app users not to get confused with unnecessary points and conversion process. The surveys are only available for United States residents. Survey on to go is definitely a great app for the people who look for opportunities to earn money taking paid surveys.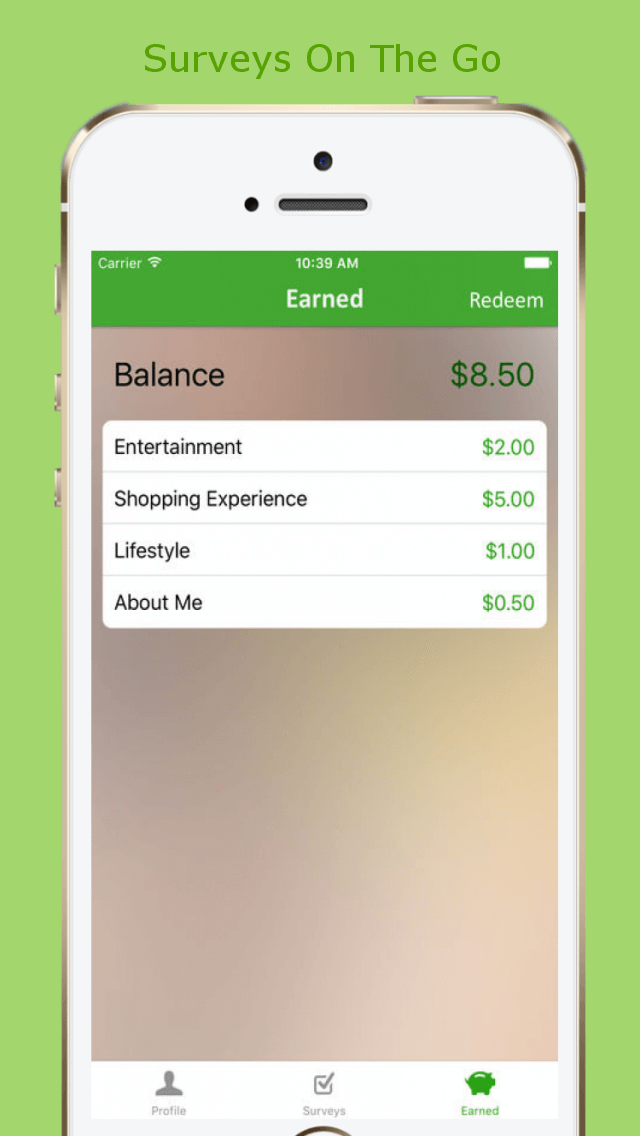 The surveys on to go app rewards the users for rating TV shows, movies, music, advertisements. Also, the high paying advanced market research tasks include evaluating products & services, testing apps, sharing the opinion on current events and shopping experience. Let the location services enabled always to receive high-dollar surveys based on your shopping trends.
Just download the Surveys On The Go app today and earn your first dollar within minutes.
15. Money app – Cash & Rewards app:
The Money app – Cash & Rewards app is one of the highest rated money making apps on both App Store and Google Play Store. It pays for completing simple money making tasks. Earn cash from anywhere spending very little time on this app every day. There are no complicated missions in this app, every mission is fun and quickest way to earn money using the smartphone.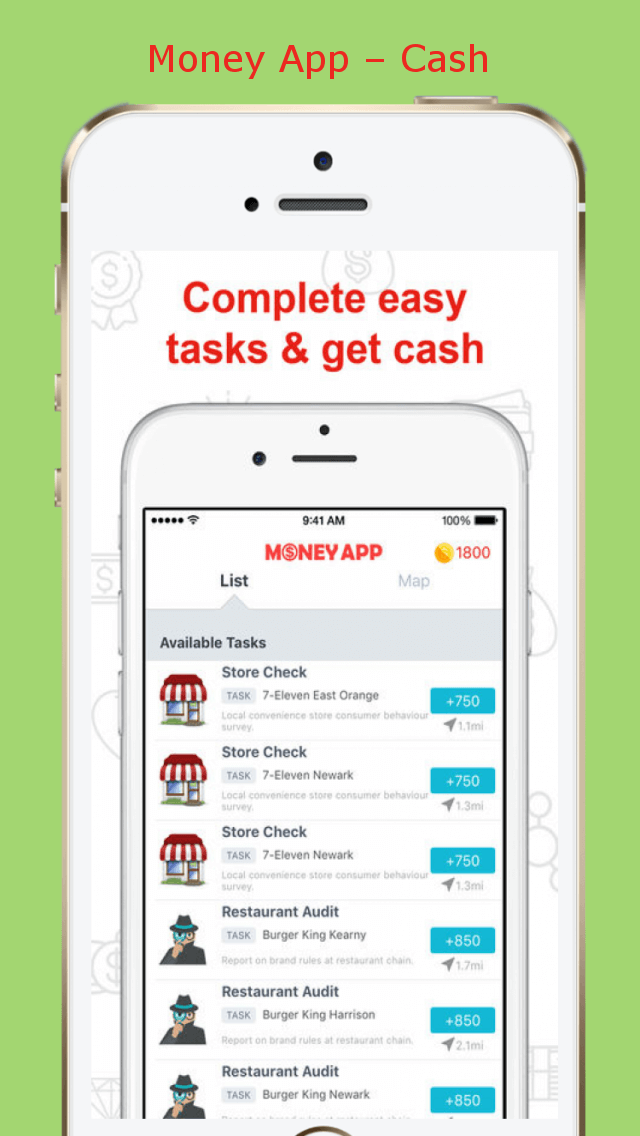 Get money for playing games, testing free services, giving opinion, endorsements, free trials, watching videos, completing surveys and more. Money app ensures that the tasks are updated daily to create new opportunities for the users to earn money and keep them engaged to the app.
Cashout your earnings through PayPal. Payments will be processed within 2 – 3 days. There is no gift cards redemption option available on Money App – Cash for free App.
16. Musely:
The Musely is the app for lifestyle freaks. Musely app helps the users to share and discover tips about various lifestyle products and earn rewards. Musely is not going to be a reliable app to earn money on mobile phone. But, don't miss to try this app if you life to stay uptodate in lifestyle products & servcies.
Buy the best lifestyle products such as natural & Organic Lipsticks, Nail Polish, food products, to earn cash back rewards. Apart from earning money, find the latest tips on skin care, cooking healthy recipes, parenting hacks, fitness routines, make up tips etc. Musely will be a motivation app to stay fit tracking the progress along with friends.
17. GigWalk:
The GigWalk is the crowdsourcing app that pays for accepting simple jobs called gig posted by leading organizations. Get paid up on completing the jobs. Gigwalk pays somewhere between $3 to $20 for completing the jobs with $5 on average. This app might work great only in Urban areas of top cities in the World.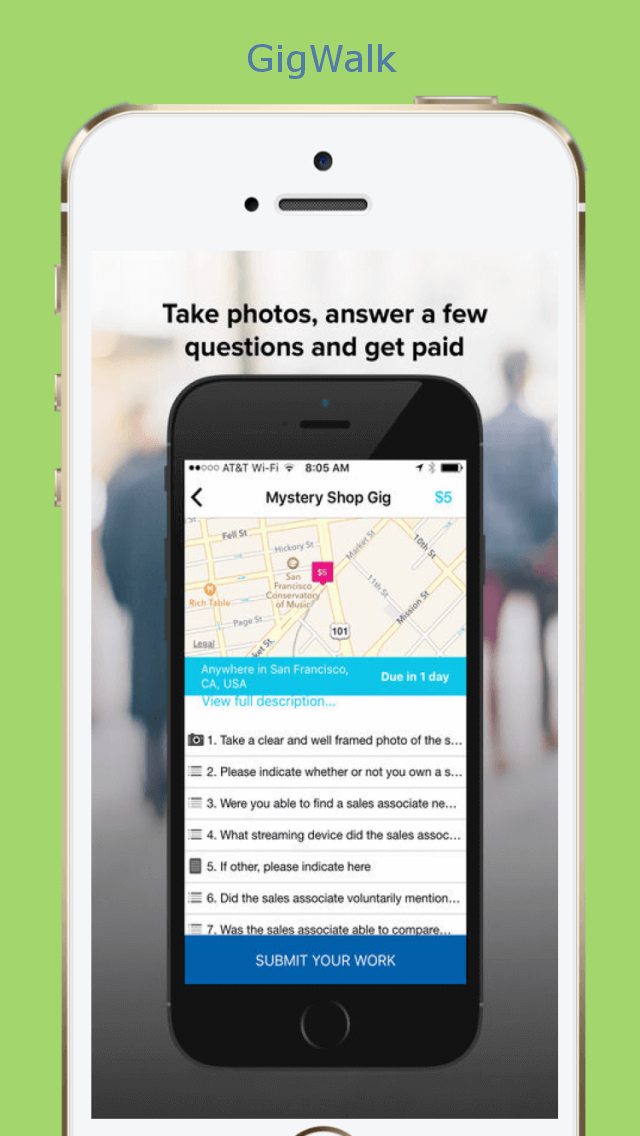 To earn money using GigWalk, download the app and create your profile. Turn on the location to find the gigs available near you. Follow the map to reach the job destination, follow the instructions and submit the required details to get paid. The tasks will be like taking mystery shopping, making videos on your experience, taking photos, acting as sales associate etc. Track your work using GigWalk app.
GigWalk will send the payments directly to the linked PayPal account once the job is approved.
18. StepBet:
The StepBet is a fitness challenge app, to stay fit and earn money completing goals. If you like to be fit, StepBet helps you to keep up your commitments betting on your own goals. You don't have to participate in the fitness challenges the whole week. Just hit hard in the active days to get one free day. Lazy people will never escape from their fitness commitments on using StepBet. The StepBet is not only available for iPhone and Android smartphones, but also for wearables such as Apple watch, Google Fit, Gramin, Fitbit, Samsung gears etc.
Once you download the StepBet fitness reward app, select your step source to get personalized goals. Bet on yourself by placing your bet into the pot to join the game. Act efficiently to hit your Active and Power steps goals during every day in the game. Win and split the pot to get back your bet.
19. Receipt Hog:
The Receipt Hog is a shopping based rewards app, that pays for taking pictures of receipts from stores, restaurants, cafe, fast food etc. Make use of Receipt while you purchase at stores like McDonald's, Walmart, BestBuy etc. Receipt Hog has paid over $2.5 million to their users in cash and gift vouchers.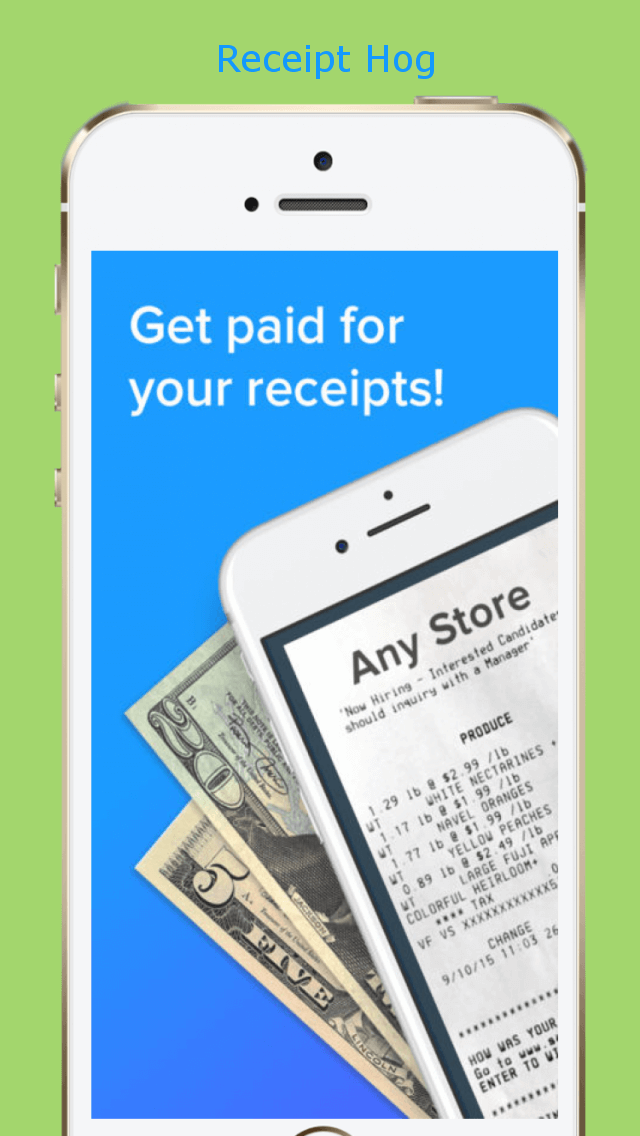 Download the app, take pictures of receipt using the app to earn Receipt Hog rewards coins, spins at virtual slot machine, and sweepstakes prizes. Cashout with PayPal or Amazon gift cards.
20. Userfeel:
The Userfeel is a bit different app compared to the apps listed above. Userfeel app pays for testing the user experience of websites and apps. It will take 10 – 20 minutes to complete the testing process. The Userfeel is not restricted to smarphones alone, the testers can carry on the testing procces using PC, mac, laptop or tablet based on the clients' requirement. The user experience testing jobs is easy, fun and the best way to earn more money in spending less time.
This testing process is carried out to test websites and apps in order to test the usability. The tester must have a microphone to perform testing process following the instructions. To help you understand the process, let's take an e-commerce site taken for testing. The tester will be asked to find the product using the inbuilt feature(s) and end the test at the checkout page. This test will help them to fix the issues in the website before making it live to real shoppers. Similarly, tests are done for different purposes based on clients' needs.
Initially, the tester must take a qualification test to get rated by Userfeel. The tester will not be paid for taking the qualification test. Once qualified, the tester can perform real testing tasks to earn $10 per test. Payments are sent through PayPal or Payoneer.
Pros and cons of money making apps:
Pros:
Since apps are reviewed in the Google play store and App store. Fake and scam apps can be easily identified. Only best can survive.
Earn money at your own convenience from home, school, travel or anywhere.
It's fun to work on these apps. Most of the tasks will be like playing games.
These are free money apps. No need to pay any registration fees to earn money using these mobile apps.
Some of these money making tasks can be only performed using smartphones like fitness rewards, scanning barcode of products.
These are the mobile apps that pay real money. Redeem your earnings for cash or gift cards.
Few apps pay for watching videos. Earn and get entertained at the same time.
Customized responsive paid surveys to earn money giving opinion using the mobile phone.
Cons:
Due to physical and technical restrictions on a mobile phone device, only simple tasks can be done using it.
Money mobile apps are not a reliable source to make money. If you're looking for a reliable source to make monthly income, do freelancing jobs.
Money apps might quickly drain out the battery.
Most of the apps work for people from tier – 1 countries and especially only for the USA residents.
Hope, now you got an idea about money making mobile apps. Comment your views about these apps. Also, check out other ways to earn money doing online jobs using mobile phone.