Online Virtual Assistant jobs is a gift to people with good organizational and management skills. There is a high demand for work from home virtual assistants in the world, especially in tier -1 countries. Usually, the personal assistants take care of things for the boss in past years. But as technology grows so do the nature of jobs change. The personal assistant job has now evolved into the virtual assistant job. The virtual assistants make up to $50/hr which is high compared to most of the online freelance jobs. One thing most important in this work is time management. If you have that, start assisting the clients from a remote place using your PC or mobile phone to earn money.
Virtual assistant jobs:
In general, the Virtual assistant is the process of assisting an individual or a company from a remote place using the technology. The most virtual assistant job will be like providing support to the employer. But each virtual assistant job will be a bit different and have unique intent.
Usually, the virtual assistant thing comes into the place where time is a concern. When an entrepreneur or the company can't able to complete the purpose of the day then it means they are not able to manage their work hours properly. Despite the virtual assistant is a costly option, they choose to hire them in order to improve productivity. The clients who're hiring the virtual assistant(s) for an extra cost will make use of them effectively worth for their money spent.
Virtual assistants can work from anywhere at their own comfort sitting at home, working in the office, traveling as long as it is possible to connect the client. Being a virtual assistant is more than a money making opportunity. The virtual assistants should have full responsibility to take care of the processes assigned to them.
Various virtual assistant jobs to work from home:
As said earlier, all the virtual assistant jobs are not the same. Each virtual assistant will be hired with custom rules to take care of things with responsibility. Here are some of the most available virtual assistant jobs available on the internet. There are virtual assistant jobs for beginners without experience and professional jobs for skilled experts. Earn $5 to $50/hr and in the case of own business set custom rates.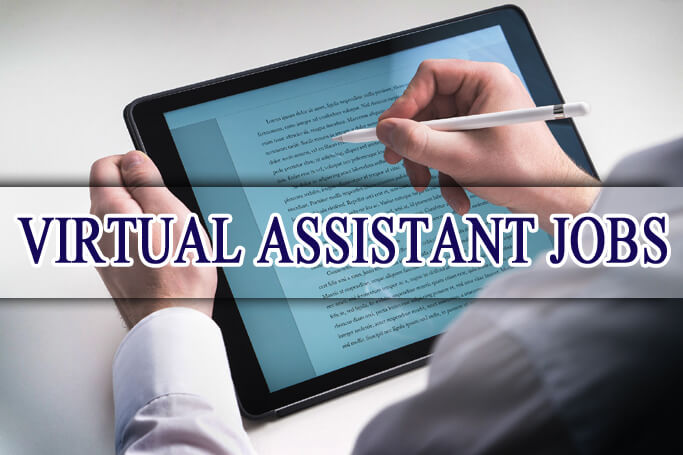 Blogging assistant:
Managing the blog of a blogger, webmaster or company is one of the most available virtual jobs on the internet. These are high paying jobs but the person applying for this job should have good skills in one or more website managing elements listed here based on the requirements – digital marketing, various CMS platforms like WordPress, basic programming skills, and tools management.
Full-time bloggers will have good blogging skills to manage websites. They can apply for this virtual assistant jobs to earn extra income managing the website of the clients. However, few people will be specialized in certain categories in blogging like SEO specialist, social media marketing, email campaign managing etc. In such a case search for the custom blogging based virtual assistant jobs.
Schedule management:
One of the common work of personal assistants. In this job, the virtual assistant should take care of the full schedule of the boss. The virtual assistant will have to manage the day to day activities of the client virtually through the phone call, mobile phone, email or specially designed smartphone app based on the client's requirements.
This work is easiest of all virtual assistant jobs for people with good time management skills and communication skills. Also, the certified virtual assistants will have been trained in such a way that they can actually program the appointments, work schedule very effectively saving hours every day.
Try to get certified by taking online courses or in educational institutions to increase the chances of getting hired and bid higher rate up to $50/hr. If you are interested in taking an online course here is the high rated course you can take "How to become a virtual assistant".
Interpretation assistant:
If you're a freelancer with bilingual talent become an interpretation assistant. The work of interpreter is to hear the speech of a person, translate and explain it to another person.
In the real-time process, the interpreter will act as a middle person to connect people from two different regions speaking different languages. Since either one of the people cannot understand the conversation/dialogue of the each other, the interpreter will help them by translating the conversation and explaining it in the language they can understand. For example, interpreting English to French.
To become an interpretation specialist, the virtual assistant should know to read, write, listen and speak two or more languages. This is easiest, simple and interesting virtual assistant job or online translation job to earn money from home.
Companies that hire freelance interpreters will pay per minute or session depending on the contract. Full-time interpreters will be hired on a salary basis or pay per job basis. Check the terms of companies for more information.
All in one Virtual assistant:
All in one Virtual assistant will take care of each and every work of the client similar to the personal assistant. I already explained about schedule management which is a part of this. Here are other works that the virtual assistant should take care for the clients.
Appointment management.
Email and message organizing.
Schedule management.
Phone call management.
Taking care of business meetings.
Travel and event arrangements.
Phone call management.
Organizing the digital files and documents.
Paying bills and rents.
Social media administration.
Based on the requirement the clients might hire an all in one virtual assistant who will take care of everything. Or hire the virtual assistant with customs requirements. Make sure to confirm if you can manage the requirements of the employer before applying for a job since virtual assistants should never mess up things.
Finance management:
Charted accountants, business administrators can work as a virtual assistant for clients and companies to manage their finance and accounting. In addition to your regular work, set your own time to work, set your own price to make a side income.
Temporary virtual assistant:
Get hired as a temporary virtual assistant to earn by completing jobs. Examples of the temporary virtual assistant are paying the bill on behalf(when the client is in abroad or remote place without internet connection), travel guide(guiding the client through video call to find routes), technical assistance(guiding to cook, fixing the problem in the bike, online tutoring work), legal advising through phone or video conference, sending gifts on behalf, making calls on behalf to schedule appointments(calling a barber on Wednesday at 7pm, check availability and fix appointment) etc.
Earn $5 for simple tasks and fix a custom price for professional tasks.
Virtual Receptionist:
The virtual receptionist is a kind of different job compared to other virtual assistant jobs. Here the receptionist should handle the clients and customers from a remote place using video conferencing or audio calls.
The process involves greeting the client, caring for and assisting the client to fulfill their purpose of visiting. The advanced process includes call transfers to the higher authority, personal assistance, etc. The virtual receptionist should be neat, enthusiastic and well trained to handle clients with patience with sweet presence. A great online job for Work from home moms and housewives.
There are still more categories in the virtual assistant industry. The above mentioned are the most viral virtual assistant jobs. Other than these, here are few more virtual assistant jobs – Marketing assistant, Accounting management, data entry, Delivery management, call management, transcription assistant, auditing & finance management, Customer relationship management etc.
Companies to find Virtual Assistant Jobs:
Now you know the responsibilities of a virtual assistant and various legitimate virtual assistant jobs available on the internet. It's time to search for a job to work. Find the list of best companies that hire virtual assistants with no experience and also learn how to start your own home based virtual assistant business using freelance marketplaces.
Requirements to become a virtual assistant:
Before getting into job searching tasks, read the list of skills and tools required to become a virtual assistant.
A PC or Laptop or PDA that is connected to the internet.
Smartphone or tablet to handle voice communication.
Audio headset and(or) speaker.
No experience needed for simple task based virtual assistant jobs.
Ability to Install the company mobile phone app(Android or iPhone) to work on remote areas.
Good communication and language skills to handle calls and messages(if applicable).
Technical skills in the case of technical assistant jobs(if applicable).
Required to install free software like MS word and paid software like CRM (if applicable).
The home call center set up (if applicable).
Certifications and training (if necessary).
List of companies to apply for Virtual assistant jobs:
These are the list of online companies that hire virtual assistants.
Fancy Hands is the best virtual assistant job provider company based in the USA. They help their clients to find the virtual assistant(s) for their tasks. The Fancy Hands VAs' are located all across USA 24 x 7 waiting to work as the Virtual assistant. They provide simple assistant services for individual clients and advanced virtual assistance services for employers and developers.
Find simple virtual assistant tasks that pay $3 to $7 per job. The virtual assistant work will be like making phone calls on behalf of people, scheduling appointments, tracking the discounts & offers of a product, finding the best hotels, data entry jobs and more. Usually, these tasks can be completed within 15 – 20 minutes. Advanced users can apply for managerial positions.
Fancy Hands expect their workers to have good communication skills that the worker should be able to provide a clear response to the clients, a computer with a reliable internet connection, proper knowledge of different fields, smartphone* and responsibility.
To apply for the Virtual Assistant job on Fancy Hands, you must have a Google account.
Zirtual provides virtual assistants for entrepreneurs, professionals and small team(s). They are working with some of the elite companies in the world like Google, Ted, Standford, and Apple. Zirtual is hiring dedicated virtual assistants to work for their clients.
Earn an estimated $10 to $18 per hour working on Zirtual. The VA's can work on tasks like Expensing & invoicing, research & reports, email management, scheduling & planning, custom personal tasks, social media management, data entry assistant, administrative & executive assistant, small business support, writing & authors, real estate assistants, website management & testing, property managers, business and life coaches etc.
Zirtual is not the place for beginners, it's for the advanced virtual assistant who can manage to work with elite clients.
The TaskRabbit is the company for people who can work as a virtual assistant cum field worker. Work as the personal assistant for the clients completing the tasks. Find the jobs you love at the rates you choose and make the schedule that fits your life.
The major category of TaskRabbit tasks comes under moving, installation, cleaning, delivery, assembly, and handyman. Full time moms are having a great time working for the TaskRabbit. If you're a student, housewive or the person looking for part time assistant jobs, join TaskRabbit.
The Virtual Office VA is the part time Virtual assistant company for people who are looking for self-employment opportunities. Residents of the US can apply for an independent contractor position with Virtual Office VA Staffing. The rate for job completion starts at $9/hr.
Job seekers must able to work for at least 20 hours per week, must speak clear English, should have a computer with internet connection and a mobile phone, should serious in time management. The tasks will take 15 minutes to complete.
Mostly, their contracts will be full, check out often to fix an appointment for the interview.
Find the part-time and full-time virtual assistant jobs on Belay Solutions that let you work from anywhere. Belay provides virtual assistant services, virtual bookkeeping services, and website maintenance services to their clients. They are looking to work with the professional webmasters, bookkeepers and executive assistants.
To apply for a job it is advised to meet their requirements i.e. a Bachelor Degree with 75%, high professionality in their department, self-trained and mastered technical skills. Their employees work for as little as 10 hours in minimum to 40 hours per week.
Their application process consists of two step interview along with the skill assessment test. If they feel the candidate is right for their company, they will hire within 2 weeks.
The Assistant Match is one of the oldest companies hiring virtual assistants to match their clients. This company is for established virtual assistant businesses with previous experience working from home. Earn $12 to $25 per hour working with their clients.
New applicants must have an office set up at their home in a quiet environment with a PC with internet connection, printer, scanner or Fax, dedicated phone connection. Their PC must have MS word, and ability to back up the files on a daily basis. Along with these, the applicant must able to make professional by phone and email. A business website should increase the chance to get approval.
The 24/7 Virtual Assistant specializes in Transcription, planning, Powerpoint, and Research Virtual assistant work. Work on 24/7 Virtual Assistant with clients all over the globe looking for professional personal assistants.
Since they handle payments weekly, they don't want to hire faultier VA's who cannot handle things properly. So, every Virtual assistant(s) are thoroughly interviewed and tested for skills.
List of companies to start your Virtual Assistant business:
These are the list of companies where you can start your own virtual assistant business.
Become a seller in Fiverr to sell the services related to the virtual assistant. Fiverr is the world's largest freelance marketplace that helps the freelancers to set up their own business and find the potential buyers. Create gig related to the virtual assistant in thousands of categories and sell it for a minimum of $5. Work at home, work at your own convenience and set your own terms and conditions.
Fiverr will provide the right tool to promote your business, process payments. All you have to do is complete the order and deliver the promises. Fiverr pro experts earn a minimum of $100 selling a single gig.
Unlike the sites listed above which are available only for the US residents, Fiverr is open to freelancers all around the world.
The Upwork is again the world's best freelance marketplace. The difference between Fiverr and Upwork is that the Fiverr works like a selling platform but the Upwork freelancers work under the client on contract or hourly basis. Upwork is the place to find thousands of clients who are looking out for professional virtual assistants.
On average, the Upwork freelancers earn $10/ hr. Once hired, the freelancers can work at their own convenient timing as long as they can complete the job within the deadline.
Upwork users work as an individual user or work as a team. Top freelancers are said to make over 6 figure income on Upwork.
List of job boards to find part-time and full-time virtual assistant jobs:
These are the list of companies where you can find virtual assistant jobs near your location.
The Flexjobs is the best-paid job board in the USA. Unlike other job boards, Flexjobs do not allow employers to post jobs for free and all the clients are properly verified. So, with full trust the job seekers can spend time on Flexjobs to find potential part-time and full-time virtual assistant jobs.
Just join Flexjobs and use their search box to find the virtual assistant jobs available in your region. Read the requirements of the employer, if you're eligible to apply for the job. Take interview and get hired to work as the virtual assistant from home.