Cashback sites are one of the best sources to save money and earn money shopping online. People keep on looking for the ways to earn money online. But, many never realize the ways to save money online. There are best cashback sites available on the internet that pays up to 40% discount for shopping online. Brands like Amazon, Walmart, might have discounts and Cashback deals on their site to save money on festive seasons like Christmas, New Year, Haloween. But, the cashback sites will help you to earn money in addition to brand discounts. Read this article to find out how to save money using Cashback offers and deals on cash rebate sites.
Get Cashback for any purchase you make on e-commerce sites and stores. Earn rebates on purchasing Groceries, Liquor, Airplane tickets, Shoe & clothes, Smartphones, Pantry items, Educational courses, Movie tickets, Software, Hotel bookings, Electronics, Mobile recharges, Fuel, Food & Restaurant bills, Taxi credit, Credit card usage, Electricity bills, Smartphone accessories, Insurance, Travel expenses, fitness products and more. Frequent online shoppers can earn more than $1000 per month.
How does Cashback sites work:
Each Cashback site will have its own features to offer cashback to the users. But, this is how a basic cashback site works. To earn Cashback while shopping online, the user must go to the site via the link given in the cashback site. Once the purchase has been completed, the site will automatically credit the cashback amount to the user account after receiving confirmation.
Based on the site the purchase is made, the cashback will vary from 1% to 40%. The user can withdraw the cashback earnings to their bank account using payment processors or can buy gift cards of brands using the saved money. The cashback offers is not only available for online shopping, but also get paid to shop at retail stores in your location.
Let's assume that you're shopping on Amazon to buy a smartphone worth $1000. Usually, there will be a brand discount already on Amazon like the original price $1300 and price after discount $1000. This discount is totally normal and it will change each time based on market value and during festive seasons. But, when you buy the same smartphone through the cashback sites, you can earn extra rebates for free. With a 10% cashback value, you will receive $100 Cashback for free to your account.
Imagine how much can you save from your purchases the entire month by shopping through the cashback sites. You might not buy a new smartphone every month but remember that this applies to products you purchase daily such as Food, Groceries, Fuel, etc.
Types of cashback offers & programs:
The cashback offers vary in each rebate site based on the shopping mode(online or retail stores), brands, cashback methods, etc. This section explains various types of cashback programs available on the internet.
Automatic cashback deals – Get paid to shop online:
This is a highly popular cashback program. In most cases, it applies to online shopping. The cashback site will list out the cashback deals available on online shopping sites. The online shoppers can browse the available deals to find the interesting deal and make the purchase through the link to earn cashback. In some cases, they will provide the coupon code to apply the Cashback directly in the checkout page. Cashback money will be instantly credited to the account once the order is confirmed.
In-store cashback:
You can earn Cashback for shopping in retail stores too. The works bit different compared to getting paid to shop online. In this case, find the offers and deals available near you. If you're interested in a deal, just link your credit or debit card to the offer. Go to the store make a purchase using the linked card, the cashback money will be automatically credited to your account.
Scan receipt to get Cashback:
In this type, the cashback sites will credit the rebates only upon confirming the copy of the receipt. After completing the purchase, the user must scan the receipt using the cashback mobile app or upload a copy of the receipt in the website. After getting confirmation from the retailer, they will add the rebates to the user account.
Market research shopping deals:
Some cashback sites pay just for scanning the barcode & QRcode of the products. In such a case, the users don't have to make any purchase. All they have to do is get into a supermarket or a reatail store and search for the products listed in the cashback mobile app, scan the barcode in the product pack. The money will be instantly added to the user account up on completing the scanning process. This is a kind of market research programs conducted to learn shopping experience, product availability, etc.
Printed coupons to avail discounts at stores:
Printed coupons are free cashback codes available on cashback sites for free. Users must apply the coupons when purchasing online or shopping at stores to avail cashback offers. Mostly this type of coupons is available for local grocery stores to save money on groceries.
Cashback using credit cards and debit cards:
This type of cashback offers is made available by the credit card providers such as banks and financial institutions. Credit card and debit card users can check with their bank for cashback deals and offers. In addition to regular Cashback, some rebate sites provide add-on cashback for making purchases using the credit card(s) of the recommend bank(s).
Know the difference between the flat cashback and volatile cashback:
The flat cashback is the most common type of offer. Sites will offer a flat cashback for making the purchase. For example, get 10% flat cashback on all the products at Walmart. In the case of volatile cashback, the cashback value will vary based on product and time. While the flat Cashbacks will be available all the time, the volatile cash-backs changes at the regular interval. Keep an eye on cashback offers to save more money while shopping.
List of Best Cashback sites & Mobile apps to save money shopping:
Here is the list of best cashback sites in the world to save money and earn money while shopping online and in stores. The availability of the cashback services is limited to certain locations. So, check the terms of the site to find if the cashback program works in your location.
1. MyPoints:

MyPoints is the best cashback site rewarding its members since 1996. Residents of USA & Canada use MyPoints to earn money shopping and finding deals available on various brands. Mypoints have partnered with 1900 popular brands and retailers to provide cashback deals and discounts to their users.
Discover deals for most of the products we use daily on MyPoints like Grooming products, clothes, books, mobile, groceries, etc on MyPoints. You can also get Cashback for shopping on top brands including the no: 1 e-commerce company in the world Amazon, Best Buy, Apple, Walmart Macy's, eBay, Kohl's, HSN, Groupon, Etsy, Target, Jet, Hotels.com.
MyPoints provides printable coupons to the users to use it on local grocery stores to get a discount. Here are some of the mentionable products to earn cashback applying coupons – Gillette products, Johnson's, Pillsbury products, Energizer, Maple and more. You can find coupons for almost all the grocery products of top brands to save money.
Apart from shopping deals and offers, MyPoints also provide online jobs to earn money in spare time. Make money by completing paid surveys, discovering content, watching videos, downloading scores, playing games and reading emails. The surveys are the high paying tasks that pay up to $3 upon completion. You can use the money to shop or it can be redeemed for cash or gift cards.
Use MyPoints to earn money without shopping
MyPoints have developed shopping mobile apps for Android and iPhone to find the deals and discounts using smartphones. Get notifications whenever there is a deal available near you. Manage your account, shop, earn, save money using the MyPoints mobile app. Earn 10% lifetime referral commission by referring friends to MyPoints and get a bonus of $20 when your referral makes the first purchase through MyPoints.
Redeem your points for gift cards of 70 top brands or cash using PayPal, Visa® prepaid card or add travel miles to the United Mileage Plus account. The minimum payout is just $3.
2. Swagbucks:
The Swagbucks is owned by Prodege LLC helped over 15 million members to earn money and save money using their services. Being one of the top Get paid to sites, Swagbucks paid over $50 million to their members as cashback and rewards for completing offers.
Swagbucks had partnered with 1500 retailers including Amazon, Target, Starbucks, and Walmart. Get paid to shop on these sites. Get access to exclusive deals and coupons to your favorite retailers and earn SB for every dollar you spend.
Being the sister of MyPoints, Swagbucks has more features to earn money than saving money. So, join both MyPoints and Swagbucks to earn and save money at the same time. Earn money on Swagbucks completing surveys, watching videos, searching the web, discovering offers, completing micro tasks and referring friends. Unlike MyPoints, Swagbucks is available for users from additional countries.
Swagbucks shopping mobile apps are available for Android and iPhone users to directly access the shopping deals. The earned SB can be converted to cash using PayPal and it can also be redeemed for the country based customized gift cards of top brands including Steam, Amazon, Best Buy, Flipkart, Walmart etc.
3. CashKaro: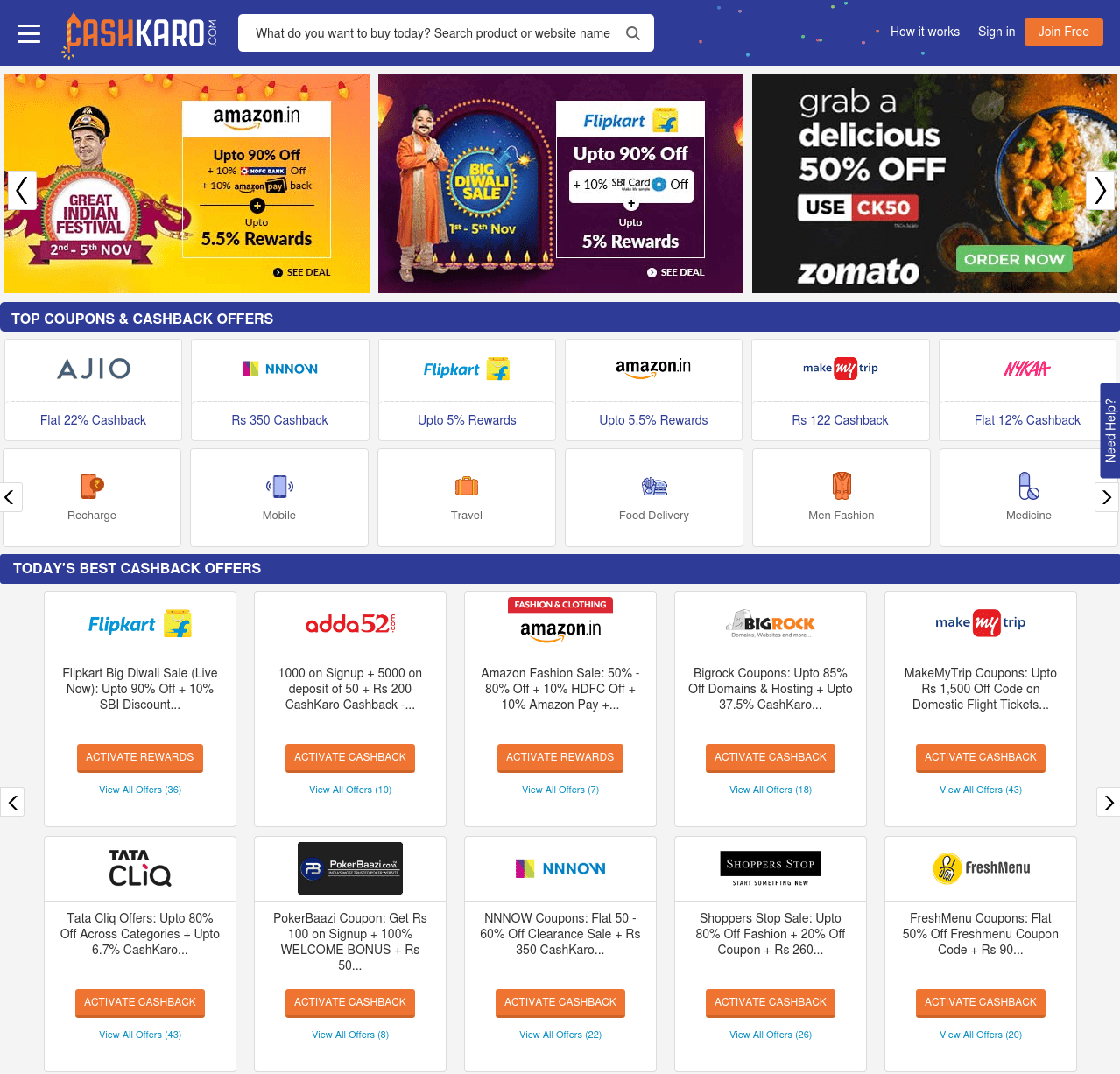 CashKaro is the largest cashback & coupon site trusted by 2 million members in India. This project is backed by Mr. Ratan Tata, the no 1 industrialist in India. CashKaro has paid over ₹4,00,00,000 cashback to its users. Make use of this opportunity to find deals with up to 90% discount and save more than ₹5000 per month using CashKaro.
If you're from India feel free to use CashKaro to earn find deals and earn cashback rewards for shopping on top Indian brands like Amazon.in, Paytm, Paytm Mall, Flipkart, Makemytrip, Shoppers Stop, Snapdeal, Tata CLiQ, Max, Big Bazaar, ClearTrip, Goibibo, Lenskart, Oyo Rooms, Bank Bazaar, Hotels.com, Bookmyshow, Ajio, Medplus, Myntra, NetMeds, Nyka, Lotto and other retailers. Earn Cashback for any products or services you purchase online through CashKaro in India including Groceries, movie tickets, medicine, fashion products, Electronics, Smartphones, etc
It's really simple to earn cashback on CashKaro. Join CashKaro, search for the deals, activate your favorite deals to continue. CashKaro will automatically redirect you to the shopping site you have chosen. Make some purchase on the site. CashKaro will add the cashback amount within few hours after confirming the order.
When you have a minimum of ₹250 in your CashKaro, withdraw it directly to your Bank account or use it to buy Amazon/Flipkart gift cards. CashKaro mobile shopping app is available only for Android smartphone.
4. Ebates:

Ebates is the best cashback site in the World operated by a powerful tech company Rakuten. Since 1999, Ebates had paid over $1 Billion dollars as cashback to over 10 million shoppers. Ebates connects savvy shoppers with top brands in the American continent. With A+ rating given by Better Business Bureau, Ebates continues its journey being world's largest free membership loyalty program.
Join Ebates and earn up to 40% Cashback at over 2500 biggest stores and specialty Boutiques. Plus Ebates offer double Cashback for shopping on selected stores. Unlike other cashback sites which work best only for online shoppers, Ebates works great for both online shoppers and in-store shoppers.
To earn rebates on Ebates on online stores such, find the deals available, make a purchase through eBates. In the case of In-store purchases, find the deals and link your credit card or debit card. When you make the purchase in the store the cashback will be automatically added to your Ebates account.
Ebates referral program pays $25 for referring shoppers to their site. When the referral makes $25 purchase through Ebates, you earn $25 and the referral earn $10. Ebates mobile app is most downloaded get paid to shop app in App Store and Google Play store. Download it to your smartphone to enjoy additional benefits. Ebates users can withdraw their cashback balance using PayPal or Big Fat Check.
5. Groupon:
Groupon is a well know online brand for coupons and cashback offers. Headquartered in Chicago, Group one is active in 15 countries and 500 plus market around the world. With 50 million active customers, Groupon helped the shoppers to save $28 Billion in North America alone. Groupon is ranked in top 5 e-commerce brands in the US.
Groupon users can earn cashback both on online stores and in-store. Apart from direct Cashback, Groupon can be used to generate coupon codes – eBay, Microsoft, Amazon, Walmart, Hewlett Packard, Hotels.com, Kohl's and more. They have worked with one million merchants to date and pumped more than $18 billion in local business.
The major categories of Groupon offer are Travel, Groceries, Restaurants, Fitness, Beauty & spa, Goods, Automotive and Doorbusters. Groupon will list deals available for each product and services. So, it is easy to find the best deal for the product you're looking for directly on Groupon. In other sites, you have to know the brands that sell the products you're looking for and get into the brand site to purchase the product and earn cashback. There are chances that you might buy the product for a higher price in a store while the same product is sold for a low price in another store. You won't face such problem in Groupon. Also, Groupon reviews will help you to find the best-branded products within a short time.
Groupon not only helps to buy products at discount price but also order services at a cheap rate. Find a fitness trainer, therapist, specialist near your location, hire a freelance expert near you, get a discount on the gym membership. The students can enjoy 25% additional discounts on food drink and fun.
6. ibotta:

ibotta is the Get Cashback to shop mobile app available for Android, IOS smartphones and tablets. ibotta pays real cash for purchasing products in your favorite brands. The working of this app is very simple and works best for normal shoppers to earn cashback rewards on the day to day purchases.
ibotta has got the right deals that shopper look for. Find cash back offers for Grocery products, Beer, Wine & Spirits, Medicine, Clothing, Beauty and wellness, Travel, Restaurant & bar coupons and more. To earn cashback, add the offers before shop to qualify. Then buy the products at your favorite stores and retailers. Redeem your offers by taking a photo of your receipt and get credited.
This app will be highly helpful to find the popular stores near you. So, you can earn cashback not only at brands like Walmart, but also at local stores near you. ibotta pays the users through PayPal and Venamo. The users can also redeem their earnings for major gift cards.
These are the best get paid to shop cashback sites and mobile apps in the world. Join these sites and find which site or cashback app works great for you. The discount rates will vary for e-commerce sites and stores on different cashback sites, make sure to check before shopping to find the best deals available at the time of purchasing. Feel free to check out the money making apps to earn and save money using the smartphone.