Ysense is the best ever online rewarding program on the internet. As an internet marketer, I've tested several Get paid to programs over the years. I will definitely vote Ysense as the best site of all since their program is highly reliable compared to other simple online jobs. Ysense is beginner-friendly and at the same time, it's home to experienced GPT users. Established Ysense users are earning about $1000+ per month on Ysense. Ysense is a legit site and not a scam. Read this full Ysense review to learn how essential tips, strategy & tricks to work.
About Ysense:
History of Ysense Review the Mother of Ysense:
Before getting into Ysense review, let me discuss the History of "Clixsense" that was the Pioneer of Ysense.
Clixsense was founded in 2007 as a paid to click site, now they have enhanced their business model to make it a long term sustainable program. With several changes made over the years, I think now they're in peak and running stable with millions of members. The concept of Clixsense is really simple, it is free to join online rewards program for those who are looking to earn some extra money using smartphone and computer from home.
Few people think Clixsense is a pure market research program. But the fact is Clixsense is not a market research program by itself. Instead, they've partnered with top market research companies in order to deliver hundreds of survey invitations in a single day.
However, ClixResearch is their own market research program still in beta stage. I didn't find anything special with ClixResearch.
What made Clixsense better than other similar programs is their service is delivered to the entire world and I never seen even once Clixsense run out of surveys. The members of Clixsense get opportunities to earn money 24\7 makes it the best of bests.
I myself made over $5000+ on Clixsense within the shortest period of time. If I can do it, so can you!
Update – Clixsense is now YSense:
Previously on Clixsense announced that they're going to make new changes to their website to make it a better place.
As said, on July 19, 2019, their site went offline for several hours to undergo major updates.
When the site is brought online, everyone was shocked to see the new brand Ysense instead of Clixsense.
The brand new Ysense is exactly what Clixsense was, but now it is owned by the company that owns Swagbucks, MyPoints – Prodege LLC.
Initially, there was confusion and chaos for the Clixsense members since everything went off. There were no surveys, tasks, etc. Cashout operation was not working for available for weeks.
But as a leader of GPT sites, Prodege LLC didn't fail to fix all those problems and bring back everything to normal.
Anyone don't have to worry about the update as Ysense doesn't differ from Clixsense instead the PayPal and gift cards has been added as the new options to cash out earnings. Continue to read the Ysense review and features.
Ysense Review:
Ysense will be the number one recommendation among the best rewarding programs from my experience over the years. Anyone can make a minimum of at least $5 – $10 per day on Ysense by spending an hour to few depending on their demographic profile.
How Ysense works:
Ysense pay it's members for doing simples tasks & offers such as paid surveys, micro tasks, completing offers, watching videos, mystery shopping, recruiting members, website testing work. In addition to earning money, you could save money on Ysense by shopping online to earn cashback.
Whenever a task mentioned above is completed, the member will be paid instantly. On reaching the minimum threshold, the earnings can be withdrawn to the bank account using the available payment processor(s) listed at the end.
Features on Ysense to earn money:
These are the various earning opportunities available on Ysense. The availability of these may increase or decrease based on your demographics.
1. Ysense Surveys:
Ysense Surveys are the predominant work section on Ysense that makes over than 70% of user earnings on average. All the members must concentrate on the paid surveys in order to make the most out of the Ysense.
Ysense pays $0.30 to $10 per survey while most of their surveys pay decent average compared to the industry standards. Usually, the short surveys completion time range about 1 – 3 minutes. But in most of the cases, the survey takes about 10 – 20 minutes to complete. These surveys pay more than $1 upon completion. And rare premium surveys pay about $5 – $10 similar to YouGov surveys.
Make sure to install the Clixaddon, a free browser extension for the Ysense users. The Clixaddon will instantly send a notification to the member whenever a new survey matches the profile.
Speaking about the profile, it's very important that the members should complete their profile truly as we do it on Opinion World surveys in order to receive invitations to take relevant surveys. This ensures that the screenout ratio to the success ratio is optimal. If you're going to choose some random answers just for the sake of survey completion, it's not going to be helpful in the long term.
Also, most of the new Ysense members are not aware of how the survey works. In order to get paid, the survey must be completed fully and the following authentication message should be displayed after completion to get paid. In the case, if screenout occurs in the middle of the survey(s) or in the prequalification process itself, Ysense will not pay for that.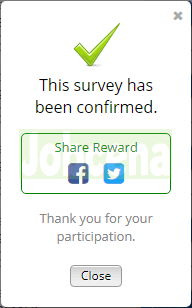 So, here is the trick you must follow on Ysense to ensure more survey invitations sent to you and to maintain a decent screenout:success ratio. Once you sign up on Ysense, the first thing you must do is complete your profile questionnaires. More surveys!
2. Ysense Offers:
The Ysense offers is the next section where the members will be paid for each action i.e. pay per action. Along with stock offers, Ysense relies on Top OfferWall networks to deliver up to date opportunities to their members.
Speaking about offers, it includes trials, paid shopping, opt-in offers, paid games, signing up for services, taking quizzes, answering polls, Ysense view ads, etc.
Usually, the basic Ysense offers pay few cents to a dollar while the advanced offers even pay $50 per completion.
The only drawback with the Ysense offer section is that it works best only for the members from tier – 1 country. Those members get a lot of opportunities which are of course high paying and reliable. Members from other countries usually can't squeeze much from this section.
3. Ysense Micro Tasks:
The Micro jobs on Ysense are considered as one of the best online jobs to make money for beginners and advanced internet users. Micro-tasks are small tasks that pay a cent to a few dollars upon completion. Ysense Micro-tasks are unlimited i.e., there is no limit on the number of tasks a member can complete as long as tasks are available.
Speaking about the word micro, it actually defines the simplicity of the tasks and the time taken to complete the tasks. Micro-tasks are actually derived from the big projects. The big tasks are actually separated into small tasks since they can be assigned to multiple workers. By this way, the tasks are completed faster with good accuracy.
The micro jobs are powered by Figure-Eight. These tasks are like simple data entry tasks, so if you'd like to learn in detail, you can click this link where 15 tasks are explained in detail about Figure-Eight microtasks. If you're a complete beginner to micro jobs, you will get a clear idea about the tasks. Get ready to make your first $5 within a few hours.
There are tasks available for both the basic and advanced users. Everybody starts with a basic level but as you level up, you will gain access to the high paying advanced tasks. To level up all you have to do is complete a minimum number of eligible tasks with higher accuracy.
4. Ysense Paid Videos:
Ysense pays for watching videos on their site. Based on the geographic location, the pay per video varies in Ysense. For instance, the Ysense USA member would get more opportunities and PPV compared to the Ysense India member.
Ysense has recently added 'More TV Time' to their website. Using this Ysense paid video offer, the members can earn money watching the video unlimited times per day. But, it's not a reliable option like the Ysense surveys and the Ysense micro-tasks.
5. Ysense affiliate program:
The Ysense affiliate program is considered as the best affiliate program in the world that is available for all the users, unlike the PPL affiliate programs. With minimal terms, the Ysense referral program helps the users to earn up to 30% referral commission whenever the referral completes a survey or offer.
Considering 30% commission slab we can estimate that a user can earn about $50* per day with 50 active referrals. The referral program will be very helpful to make passive income.
If you're not a blogger or a vlogger be the first one to join Ysense and recommend your friends before they introduce all your friends to Ysense with their referral link.
6. Clix Addon:
Their addon is the free Ysense addon software browser extension that plays a significant role in increasing the earnings of the Ysense users. After Ysense signup process completion, the extension can be downloaded by visiting the more section.
Download and installation of the Ysense addon app extension will get completed within 10 seconds. The extension will automatically connect to the Ysense addon account to give a brief account summary. In addition, the main job of Ysense extension is to notify the users whenever a new opportunity is available for you.
You'd get the notification first about earning opportunities as other Ysense addon users do. Since many opportunities are limited in number, you can take advantage of being the first member to complete the tasks and surveys.
Members who keep Ysense addon installed will receive an extra bonus. Refer the bonus section below which actually required basic bonus completion to activate the extra bonus.
7. Ysense Bonus:
Earn a 16% daily bonus on Ysense by achieving the daily bonus checklist. For example, if the members earn $20 today, they will get $3.2 bonus. At least 2 surveys or 10 Ysense micro jobs to earn a basic bonus of 12%. If the members keep the Clixaddon installed and achieve the streak they'd earn an additional bonus of 4% with a total shooting up to 16%. It's really easy to complete the Ysense checklist to earn a daily bonus.
Apart from the daily bonus, the top 10 tasks completers will receive a $200 bonus in total. This is highly competitive and not promising but however, you can try to achieve this prize by reaching one of the top 10s in the contest.
8. Ysense Games(Not available):
Does Ysense pay the users for playing games? No, they don't pay any cash or Clixcents for playing games. Their game section is just added for entertainment purpose. Members can play those basic games for free to have fun. So, it's not possible to earn money on Ysense by playing games.
Ysense app:
Ysense is still in the development stage on creating Ysense app. Currently, the smartphone users will have to use their mobile browser to work on Ysense since no Ysense Mobile app is available for now.
In the future, Ysense might develop their mobile app to introduce a new way to earn money using the mobile phone app. For now use their newly designed responsive website to work on any device including mobile phones, Tablets, Laptop and Desktop.
Tricks to earn more money on Ysense:
There are some of the white hat tricks you can follow to earn more money on Ysense but do not try to cheat their system.
The whitehat tricks that are really going to work are filling Ysense survey profile fully and keeping it up to date. There are some cheat protection questions installed on Ysense to find out the fake profile created to manipulate the survey frequency and invitations.
Few people advice the users to mask their actual Ysense survey profile and demographics as a part of Ysense survey tricks. But I advise you not to try these techniques since Ysense has implemented a strong anti-cheat protection. Should they find that you're using some blackhat techniques to cheat their system, there are chances the account to be locked anytime even if the loophole worked before.
With several Ysense complaints have been witnessed for inaccurate research data. The Ysense and other market research companies are working hard to solve this problem.
Ysense Payments:
Ysense avails a number of payment options to its users to withdraw their earnings. Once the user earns a minimum of $10 they can request for a payout through one of these payment options.
Payoneer(preferred), PayPal, Skrill, Dwolla, Tango cards are the available options.
Previously, the USA & Canadian Ysense members were able to request check payments. But Check payments are not available anymore.
Be advised that Ysense now have an option to redeem the earnings for Gift cards of brands like Amazon, Walmart, Steam, Google, Facebook, Target, etc.
Ysense Payment Proof:
Here is the screenshot of Ysense payments which is proof that Ysense is a legit site.
Pros and Cons of Ysense:
Pros:
Ysense is the best in its industry. Undisputed winner!
Unlike Swagbucks & other top Ysense alternatives, Ysense is one of the few sites that accept members worldwide including USA, India, Europe, Asia Pacific, Africa, Australia, etc.
The survey rates are higher compared to industry standards.
If not sticking with the self-organized freelance job, the internet users can Find work to do 24/7 only on Ysense.
The Ysense business model is very ethical and safer than captcha typing jobs.
Promising affiliate program for passive income.
Better organized site structure and responsive in all the devices.
Get paid directly to your bank account using PayPal, Payoneer with lowest fees.
Active forum with millions of members in the community to help the new users and encourage with numbers.
Daily bonus, contests are conducted to boost the earnings of members.
Only Get paid to site with customized survey programs while others stuck with the survey routers.
Ysense is free, Sign up without registration fees. The best online job site for stay at home moms, homemakers, students and everyone who are connected to the internet.
A detailed tutorial is available for the new users to assist them to start without any confusion.
Cons:
Working daily on Ysense will be boring.
Since Ysense is no more paid to click site, the eight-level affiliate program strategy is not going to work anymore.
Final words on Ysense Review:
The favorite Clixsense is no more. It's a new generation Ysense that has to take care of what Clixsense left as it's legacy. However,
Ysense is a legit rewarding program now run by the leader of GPT sites Prodege LLC.
The thing is only the word legit doesn't make a site best. Ysense's reliability made it the No: 1 rewarding program in the world and I guarantee that it will be in the top for years.
So, I highly recommend you to join Ysense to make money online from home.
Sign up – Ysense.
Checkout Ysense alternatives – Get paid to sites.