Captcha Club is a controversial captcha job site. Many worries if it is a scam or legit captcha entry site. While I don't recommend this typing job since it is considered unethical. If you're interested, you can learn the truth about captcha entry job. In this article, I will analyze and write the Captcha Club review to help you to find if CaptchaClub is Legit or a Scam!
Captcha Club Review:
I've never used Captcha Club. However, I'm an experienced online marketer with good knowledge about captcha entry work and online scams. Find out whether it's safe to join Captcha Club or not based on my view.
What is CaptchaClub?
Captcha Club claims that they are introducing a new and easiest online job to make money online.
And the job they offer seems to be related to captcha entry job which is related to online data entry work.
This mean, the worker can earn money by solving captcha which is a kind of online job related to typing.
Know the Basics of Captcha Entry Work:
You would have come across captcha when you had a chance to fill a form or during the sign-in process.
The captchas are installed on the site while filling the form to prevent automated bots to access the website content.
For example, a bot can find your Instagram password by randomly entering passwords. When there are multiple attempts made to log in, it will automatically show captcha to verify if it's human. So, the captcha is very helpful in stopping the abuse of bots and hackers.
In the case of captcha entry work, you will have to solve captcha for a third party service to automate some process. For solving a captcha, the captcha entry site will pay you up to $0.003.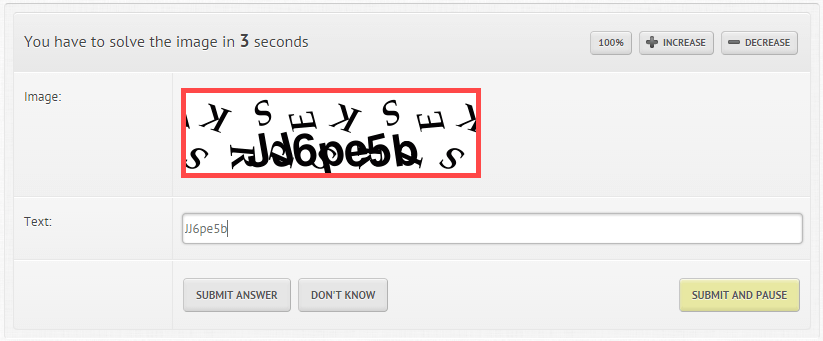 This is considered as unethical since the captcha entry workers are somewhat working to hack the protection of a website or an app.
Captcha Club has been created in the same model but with some terms that make things fishy.
Elements that might Prove Captcha Club is not a Serious Business:
Anyone with a little bit of brain could easily spot whether a site is legit or scam by doing some basic tests.
Packages and privileges:
Captcha Club has listed three packages on its website that includes Standard, Premium, and Unlimited.
The standard users are said that they can make up to $0.03 per captcha.
Usually, even the high paying legit captcha sites pay only $0.001 per captcha while the smart captchas rate rises up to $0.0025.
$0.03 per captcha is insane. A member could solve 100 captchas within few minutes. A job that pays $3 within minutes is just a sign of a scam.
The fun is their paid membership is said to pay $0.06 to $0.10 per captcha with the highest membership sends unlimited captchas to solve.
If we calculate, even a low skilled worker will make up to $100 within an hour.
A person with common sense will spot that Captcha Club is a scam within minutes and get out of their site immediately.
Fake security badges:
At the end of the homepage, I spotted a few badges of security companies and web analytics companies.
They are all fake. Captcha Club has just added the images instead of authentic badges just to prove that it's a legit website.
Usually, experienced freelancers and webmasters would easily spot that they are fake.
Spelling mistakes:
All over the Captcha Club website, you can come across a lot of spelling mistakes.
Silly mistakes prove that their website is not an authentic source to make money.
Withdrawal fees on Captcha Club:
They have specified that the minimum payout is $100.
What's the reason they ask the users to deposit $40 to send their earnings?
Any site that asks for a processing fee to send payments mostly like to cheat once they receive money.
Genuine moneymaking sites like Ysense, Toluna influencers never ask for any deposits to process the payments.
High Minimum Payment Threshold:
While the legitimate captcha entry sites have minimum payout threshold of just $1 which is reasonable, Captcha Club minimum payout is way over high.
There are several reasons why their site might have a high threshold.
The first one is to collect maximum deposits to process payments, the second factor might be a process to showcase the numbers to attract poor users.
These are the factors that might show the Captcha Club could be one of the best internet scams ever.
User comments on Captcha Club:
I've gone through certain comments of the old users. The member Captcha Club reviews stated that it's a pure scam just created to scam people.
Many claimed that they have lost $40 as deposit fees. Old Captcha Club users scream that no payments were sent after the deposits.
Usually, payment processor like Payoneer accepts only established businesses to be part of their organization. Even PayPal buyer protection is there to save people from online scams. But initially, people lost intending to earn money quickly.
Captcha Club Review – Finally is it scam or legit?
When looking at Captcha Club review, there is not even a small sign to prove it's legitimacy.
Every sign is negative proving Captcha Club is a scam site just created to cheat people.
So, stay away from Captcha Club and start to invest your time in reliable online money-making programs such as digital marketing jobs.
Note on Online Scams:
Previously, there was a site called Traffic Monsoon. It was a money making machine where millions of users invested their money and many did earn a lot.
But, due to the unstable business structure, one-day Traffic Monsoon has shut down with millions of dollars from its members.
So, beware of such online scams which promises you to pay a huge amount of money in the shortest period of time.
How to find a legitimate way to Make Money Online?
When you're searching for ways to earn money on the internet, make sure if the work is meaningful. Online jobs like Ad Posting, Form filling are just non-sense.
So, go for reliable long sustaining options instead. You can find reliable online jobs here.
If you just want to earn pocket money instead of going for hard-working technical options, you can try paid online surveys.
Looking for an option to earn money using a mobile phone? Here are some of the money apps you can consider.
I also recommend you to check out the best cashback sites that should help you to save hundreds of dollars every month while you shop online and in stores.