Paid Surveys are the easiest online money-making programs available to internet users. The advantage of working on paid survey sites is that the users can even take surveys using their mobile phone. While there are compatibility restrictions to do online jobs on the mobile phone, paid surveys are one among very few jobs that can be done using the smartphone. If you're looking to do paid mobile surveys, here is what you need to know about the surveys for mobile phone. Also, find the best mobile survey sites and mobile survey apps to start making money taking surveys on Android and iPhone.
Every mobile phone user can make use of these mobile survey programs since they don't require any technical skills. Earn money from anywhere like when you travel, at school, at college, at transit, at work and even while you rest. Millions of smartphone users around the world are already doing surveys on the mobile phone. It's time for you to start!
What is important for a Mobile Survey Site?
Does the Paid survey apps make the panel a reliable mobile survey site? No! The Mobile survey apps are just an additional feature for the users to access, manage account and surveys.
Usually, the surveys will have to be answered using the mobile phone browser like Google Chrome. A mobile survey site should have certain elements to be considered mobile compatible.
Here are some of the important factors that make a paid survey site reliable.
The survey site should have a clear interface where the user should be able to find the basic elements like account info, surveys, reward section with ease.
Answering the surveys on the mobile phone should be easier. The survey should fit the mobile viewport properly. Also, the elements like buttons should be implemented properly.
Since most of the surveys do not require the survey takers to type answers, the user should be able to choose the answer easily without having to touch screen multiple time to select the answer. This will make it hard to take the survey using the mobile phone.
Instead of making the user touch the select element, survey panels should make the user select just by touching the answer. This will make it even easier.
Choices should be made available in the first view instead of making the user scroll the page(s).
The text and the image should appear in optimal size so that the user could read and answer the survey with ease.
How to Earn Money taking surveys using Mobile Phone: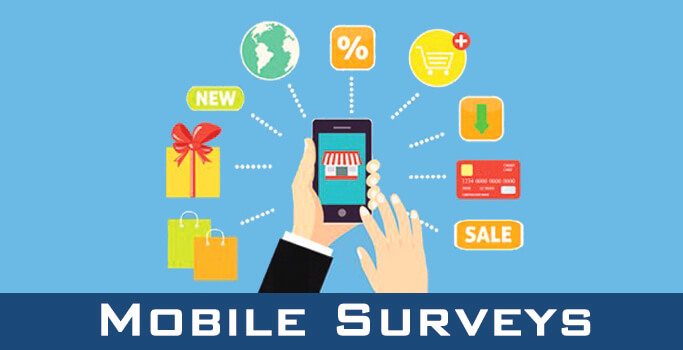 To start making money using the mobile phone by taking surveys, you must become part of panel community.
Join the Mobile survey site(s) listed below by signing up using your email or social media.
Once you sign up, complete the profile to let the survey panel know about your interest and preferences.
Now you're all set to receive the survey invitations to earn money answering surveys using the mobile phone.
Download the mobile paid survey app to enjoy additional benefits.
10 Best Mobile Survey Sites and Survey Apps To Make Money:
Find the list of best mobile survey sites below. Some of these sites might have developed a survey app for the mobile phone and tablet devices.
All these mobile survey sites will have a primary desktop version. You can learn in detail about those here on Paid online surveys.
1. Toluna Influencers:
The Toluna is one of the top survey sites in the world and it can be called the best mobile survey site.
Toluna mobile site has better user experience and the surveys are easier to answer using the mobile phone.
The Toluna mobile survey app is available for the Android and iPhone. Download the free survey app to take short surveys, join community debates, cast votes, etc.
They pay somewhere from $0.50 to $5 for completing a survey based on the length and topic of the study.
Redeem Toluna Points for cash via PayPal and gift cards of brands including Amazon.com, Target, iTunes, BestBuy, Walmart, StarBucks, etc.
2. Swagbucks:
Owned by the best company Prodege LLC., Swagbucks is the topmost rewarding sites in the world, that pay for taking surveys, completing offers, etc.
In addition to taking surveys, you can save money by receiving cashback while you shop online and in the stores like on MyPoints.
Swagbucks is a very user-friendly mobile site with easy to access features. Most of the Swagbucks users do surveys using their mobile phone.
Unlike other mobile survey sites, Swagbucks will have surveys 24/7 ready to be taken. Also, Swagbucks offer a periodic bonus of up to 50% for taking the surveys which can boost the earnings.
Download the Swagbucks mobile app available for Android smartphones and iPhone to take surveys, answer polls, and redeeming rewards with one touch.
When you have a minimum of $5 in the account, you can redeem SB for gift cards – PayPal, Macy's, Amazon, Facebook, Steam, GooglePlay, Target, and hundreds of other brands.
3. Ipsos i-Say:
Ipsos is one of the oldest market research companies that run the i-Say survey panel.
They have a highly interactive mobile site and their surveys are easier to answer using the mobile phone.
The Ipsos mobile app is available for both the Android and iPhone. Use the app to check surveys and managing account. Respond to the fun survey exclusively available on the mobile survey app and earn MyView points.
Get 10 to 100 points by completing a survey and 5 points when you get screened out of the survey.
Redeem i-Say Points for Amazon, iTunes, StarBucks, or Target gift cards. Use PayPal for cash withdrawal.
4. SavvyConnect:
SavvyConnect is a market research app developed by SurveySavvy that pay $15 just for installing the app in your mobile phone and computer devices.
The app remains idle running at the background to collect useful data that will be used to improve the internet and technology.
In addition to this, Survey Savvy also pay the users for taking surveys that range between $1 – $5.
Some of the premium surveys are said to pay even more. Survey Savvy is one of the most consistent survey panels that pay a higher reward for taking surveys regularly.
With minimum payout $1, you will receive the paycheck every month even without logging into the account once.
But, make sure the device(s) on which you choose to install the app is active.
5. LifePoints:
Previously, LifePoints was a mobile survey app that paid for taking surveys. Now, LifePoints has become a survey panel merging the Global Test Market and MySurveys.
LifePoints surveys are fully mobile responsive and interesting conducted on various topics. And they pay a decent reward for completing the surveys.
Though LifePoints doesn't have a mobile survey app now, their mobile site version looks great. This makes it one of the reliable mobile surveys sites.
While most of the survey sites struggle to send the survey invitations regularly, LifePoints send the maximum number of invitations invitations every day. They ensure that their members get enough opportunity to earn money on their panel.
LifePoints can be redeemed for PayPal cash and gift cards of Amazon, iTunes, Starbucks.
6. Ysense:
Ysense is the successor of Clixsense, the top GPT site of its time. Every time when I log into Ysense there will be at least 30 – 50 survey invitations available on the survey page.
Ysense is again the owned by the same company that runs Swagbucks, Prodege LLC.
While Ysense is not a market research company itself, they make the survey available through various market research companies like CINT, Your Surveys, etc.
Most of the Ysense surveys are mobile responsive, means that you can take surveys using the mobile phone without any problem.
Ysense process the payments via PayPal, Payoneer, and gift vouchers of over 10 brands.
7. Opinion Outpost:
Opinion Outpost is operated by Dyanta LLC, Survey Sampling International that runs other survey sites like Opinion World.
Available only in North America and parts of Europe, Opinion Outpost is an exclusive market research site.
Opinion Outpost users can earn money by completing surveys both on desktop devices and mobile phone devices.
Earn 5 – 50 points per survey. 1 point is equivalent of ten United States Cents.
Opinion Outpost has three options to withdraw their earnings which include PayPal, Amazon, and iTunes gift cards.
8. YouGov:
YouGov is by far my favorite survey panel which is well known for high survey rate and easier surveys.
Enjoy taking surveys in favorite topics like Politics, Sports, Internet, Apps, etc.
YouGov surveys are designed very well that the user doesn't feel any stress taking their survey both on desktop and mobile phone.
The YouGov mobile survey app is available for members from limited locations.
They process payments via various options that includes PayPal, Western Union, Paytm, Amazon, BestBuy, iTunes, Target, Walmart.
9. Valued Opinions:
Valued Opinions is home to 3 million panelists that makes it one of the most familiar survey sites.
Enjoy taking surveys on Valued Opinions in over 25 categories. Get a lot of chances to participate in surveys.
Valued Opinions is known to have long surveys that pay higher rewards upon completing it.
Redeem your earnings for Amazon gift card, Prepaid card, or Airline Mile Credits.
10. Nielsen Mobile Panel:
The Nielsen Mobile Panel is a unique market research program similar to the Survey Savvy.
When the user installs the Nielsen mobile survey app on their mobile phone, it will run in the background to study the usage of the internet and apps.
The research data will be used to shape the future of the internet.
Get rewarded just for installing the mobile research app without taking any surveys or working.
Every active Nielsen Computer Panel users will get a chance to win $10000 with free entries into monthly sweepstakes.
These are the best mobile survey sites and mobile survey apps that can be used to earn money on the mobile phone by taking surveys. If you're interested, you can check out more mobile money apps that have different ways to earn money other than taking surveys.